Do you have a tech entrepreneurial project? BBVA Open Talent is waiting for you until June 25
The entrepreneur's career is not easy. If a last-minute meeting has prevented you from submitting your project to BBVA Open Talent, we want to wait for your contribution before we get this adventure started. This is why we are extending the application deadline until June 25.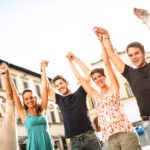 Have you been unable to complete the form for taking part? Have you not had enough time to record the video pitch? Have you got any last-minute questions? Don't worry. The BBVA Open Talent startup competition wants all entrepreneurs in the technology sector to take part and that's why we're extending the application deadline until June 25.
Also, this year the BBVA Innovation Center offers participants the chance to record the video pitch, an optional item in the registration form, through the Wideo platform, one of the winning projects of the BBVA Open Talent 2012 contest. So, if you don't have it yet, click here and start recording it.
BBVA Open Talent is looking for technology entrepreneurship projects in the Digital Life and New Banking categories. Participating startups must have been set up less than four years ago and have a project underway or an available beta version. In addition, they must have had less than one million euros in turnover and raised less than 1.5 million euros in funding over the last year.
This year the competition has three regional editions: BBVA Open Talent Central and South America, BBVA Open Talent Europe and BBVA Open Talent North America, and Rest of the World. In total, more than 180,000 euros in prizes will be awarded to the winners, the runners-up and the project that gets the most votes online.