Andersen Lee, an aspiring, young chef from Montreal (Canada) has been named recipient of the scholarship that is jointly awarded by BBVA and The World's 50 Best Restaurants. Lee has been chosen from among the applicants from more than 70 countries. He will be able to perfect his culinary training working side by side with the prestigious chefs, Julien Royer, Clare Smyth, and Jorge Vallejo.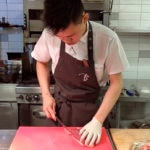 "It's a long shot, but winning would be the first step to achieving my dreams," Lee commented when he applied to the program. The 21-year-old Canadian chef will now have the opportunity to spend six weeks working in Odette, a restaurant in Singapore run by Julien Royer; he will then spend a six-week stint at Clare Smyth's Core in London, followed by another six weeks in Quintonil, which is run by Jorge Vallejo in Mexico City.
Óscar Moya, Global Head of Branded Content and Sponsorship at BBVA stated, "the scholarship program's second-year winner embodies the hard work and commitment of all the applications we received." Moya states that "BBVA's mission is to bring the age of opportunity to everyone, and we are enormously pleased to be able to offer this opportunity to aspiring chefs. I am convinced that Andersen will not only make the most out of the experience, but he'll also love it."
Cooking without borders
The winner lives in Montreal, Canada, and admits that the mix of cultures influences the way he cooks. And he proves as much. He likes to cook with local ingredients, but taking inspiration from international culinary concepts, preferring to "cook without borders" in pursuit of new flavors. "I believe ordinary ingredients can turn into the extraordinary," he points out.
The applicants have to have less than three years of professional cooking experience to qualify for the scholarship. Like last year, the winner was selected based on his performance in the different phases of the selection process: written submissions, reference letters in support of the applicant, videos made by the applicants themselves, and interviews overseen by the team at The World's 50 Best and leaders at BBVA.
Specifically, during the second phase, candidates had to record a video of themselves in the kitchen, demonstrating the philosophy that inspires their culinary creations.  Lee dazzled with his unique interpretation of Peking duck, cooked with pickled carrots and coffee. A dish inspired by his childhood, a time when carrots figured prominently. "Carrots played a big role in my childhood. To be frank, my view on veggies only changed when I bit into a carrot from my aunt's garden, for the first time. (...) This dish represents my philosophy well. The flavors are eclectic; I used local ingredients in their entirety, and no non-recyclable plastics were used for my dish. Furthermore, it represents my culture and my journey in discovering the world through my palate," explains Lee.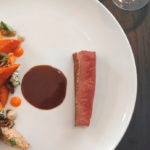 His name will be formally announced as the scholarship recipient on June 25 at The World's 50 Best Restaurants' annual gala, which will be held in Singapore this year. Lee will share the evening with the best chefs in the world at the renown annual gastronomic event.
For another year, the appetite for the culinary arts is heightened by small details, awakening the interest of thousands of people around the world. Cooking is a discipline, but it also requires knowing how to work in a team, but most of all it is a calling. "My passion for hospitality goes beyond the production and technique. I fell in love with the profession when I discovered the bond that is created when cooks work together. Also, eating my mom's food at the dinner table as a child will always be one of my fondest of memories. I felt relaxed, inspired, and cherished. Ever since, I've been devoted to bringing people that same feeling." Without knowing it, Andersen Lee had embarked on a gastronomic adventure thanks to his passion for cuisine.