In the last twenty years, Garanti BBVA has distributed more than 135,000 million free airline miles for Miles&Smiles credit cards holders, which is enough to travel the world a million times.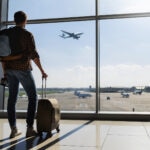 Miles&Smiles, the Turkish Airlines Frequent Flyer program in which Garanti BBVA participates, is celebrating its 20th anniversary. Since 2000, Garanti BBVA Miles&Smiles credit cards have accumulated more than 135,000 million free airline miles, which are equivalent to 35 million one-way tickets on domestic flights, 12 million one-way tickets on European flights or 4 million one-way tickets on flights to the United States.
Customers who make purchases with Garanti BBVA Miles&Smiles credit cards accumulate extra miles for their next flights. In addition, thousands of clients of the program continue with Garanti BBVA after trying it.
Special anniversary event
Garanti BBVA has prepared a special event to celebrate the 20th anniversary of the Miles&Smiles program with its clients. From October 12 to November 12, 2020, cardholders will be able to take part in this special online shopping event and earn 2,500 extra miles and half the amount of their purchases in miles.
In addition, participating customers who have been in the Miles&Smiles program for 20 years will receive 7,600 miles in roundtrip tickets for domestic flights. And that's not all, 20 raffle winners will receive 20,000 reward miles featured on the Instagram account @garantimilesandsmiles.
Our customers can enjoy new benefits year after year
Seçkin Çağlın, Garanti BBVA Payment Systems EVP, states: "We are delighted to collaborate with Turkey's leading airline for 20 years now. The Garanti BBVA and Turkish Airlines credit card is the best example of how fruitful this strategic partnership has been. Not only for both companies, but also for our customers, who can enjoy new benefits year after year. Since 2000, we have gifted 135 million miles to 1.5 million customers. Our goal is to continue collaborating with Turkey's # 1 airline and continue delivering value for years to come, "he adds.
Ahmet Olmuştur, Turkish Airlines´ Chief Marketing Officer, also wanted to join in on the celebration: "At Turkish Airlines, we are pleased to celebrate these 20 years of strategic collaboration with Garanti BBVA. In all this time, we have offered great advantages to our customers with our joint Miles&Smiles credit card and we want it to continue for many years to come. "
Endless advantages with Garanti BBVA  Miles&Smiles credit cards
Thanks to its extensive sales network, Garanti BBVA offers great advantages to its Miles&Smiles credit card holders, such as installment payments and free miles. Customers earn one mile for every Turkish lira they spend on purchasing airline tickets through Turkish Airlines and can split the payment in up to 6 installments. They can also travel more comfortably by swapping their Economy class seats for Business class seats. In case they do not have enough miles to get a free ticket, they can pay in 18 months using anticipated miles without having to wait to accumulate them.
In addition, they can earn up to 50% more miles depending on their Turkish Airlines Frequent Flyer program category, as well as 25% more miles if they use the Miles&Smiles Platinum and American Express´ Privé cards for their purchases.  They can also get a 15% discount at their favorite hotels and national restaurants.