WeChat Pay lands in Spain hand in hand with BBVA and World Duty Free
BBVA and Dufry have launched the first WeChat Pay facilities in Spain, in the travel retail operator's World Duty Free stores at the Adolfo Suarez Madrid-Barajas airport, in a dedicated bid to make Chinese tourists feel more welcome while on tour.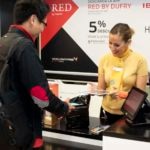 The move is a hugely significant shift within the Spanish payment space, and indicative of the power the WeChat service has within, and increasingly outside of, China.
World Duty Free will begin offering the service to passengers passing through its Madrid Duty Free No-Schengen shops at Terminal 1 Madrid Barajas airport, and then roll out to its stores in Madrid and Barcelona where it was identified that Chinese passengers are seeking to use this platform.
The payment scheme has been set up so that it can easily be deployed and adopted in the other 24 Spanish airports where World Duty Free operates if new flights to China are introduced.
"At Dufry we have always created shopping spaces with our customers in mind and we are delighted with this new payment scheme that allows our Chinese passengers to pay for their purchases as they would at home. We firmly believe that we are one step closer to offering our passengers the seamless journey we strive for" said Ángeles Montesdeoca, Directora General de España, Dufry
"Thanks to our partnership with Dufry and WeChat Pay, we can allow Chinese travellers to feel at home when they do shopping at the Spanish airports. As well as this, we are creating new opportunities for our merchant customers to increase their sales by leveraging their promotions with all the awesome marketing tools available at the WeChat ecosystem" said Carlos Laita, director of Innovation & Market Development EMEA at BBVA.
BBVA, as the official first WeChat Pay partner in Spain, is also looking at other retailers to introduce the service, including large department stores, shops and major tourist attractions.
An estimated 650,000 Chinese tourists visited Spain last year, and the number looks set to continue growing as visitors from China discover the cultural delights Spain has to offer.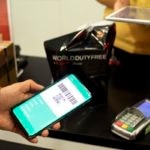 An user paying with WeChat Pay at Madrid's airport Adolfo Suárez.
The instigation of services with World Duty Free is the first in a series of rollouts coming over coming months allowing Chinese visitors to pay for goods and services in a way familiar to them.
As well as attracting business to the stores supporting the WeChat pay function, and making things easier for Chinese shoppers, WeChat Pay also gives retailers back valuable information on purchasers, allowing them to improve future efficiency.