APPs
Updated: 29 May 2018
Bank APIs need to be an independent business, not a compliance challenge, says BBVA's Shamir Karkal
One of the keys to success for an API platform is that it needs to be an independent business, set up to encourage financial innovation, according to Shamir Karkal, BBVA's Head of Open APIs.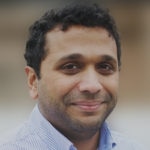 In an interview with the Fintech Insider podcast on BBVA's Open API program, Karkal says 'You can't treat it as a compliance requirement or a project - it has to be an independent business'.  Karkal's point was that European banks will have to offer APIs as part of upcoming regulation to encourage innovation in banking - known as PSD2 - but that any API programme needs to go further than that.
The 25 minute chat, which featured in podcast no. 111, is available on iTunes and which you can listen to here, features other tips from Karkal on the  API business, some background on what exactly APIs are and their role in financial transformation as well as the story of how APIs could have helped him in his previous role as co-founder of Simple, the technology company that's changing the way people look at banking.
Here's Shamir's five recommendations for a successful financial services API programme:
Build a platform - a technology business without a platform will always be overtaken by a product with one
Don't treat this as a compliance issue - it's much more than that
Make it an independent business - with a mission to transform financial services
Understand your customers' needs - and make the product easy to use
Work with control functions - a bank's expertise in risk and compliance, for example, are key to businesses looking to build new financial services
BBVA's range of APIs and access to them at bbvaapimarket.com continues to expand. Access for customers in Spain and the US is now on request, rather than by invitation, and services such as expanded ACH in the US and data aggregation in Spain have been added to an existing suite of services. Within the Spanish market, BBVA Connect allows third parties to integrate your BBVA account and its' data into their application, and is one of seven BBVA APIs. Customer consent is required for any any third-party use.