BBVA catalyzes sustainable development and the fight against climate change
BBVA opened its headquarters in Madrid to welcome investors, business leaders, public and private institutions and the media, to an event aimed at promoting sustainable development and the fight against climate change. During the first edition of the 'BBVA Sustainable Finance Forum,' Group Executive Chairman Francisco González explained the reason for the meeting: "Banks need to help customers drive sustainable development and transition towards a low-carbon economy. At BBVA, we want to be the catalysts of this change." Francisco González opened the event alongside Soraya Sáenz de Santamaría, Vice-President of the Government of Spain.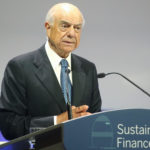 "The burden of responsibility that rests on humanity's shoulders is unprecedented," said Francisco González during the opening speech of the 'BBVA Sustainable Finance Forum.' Paraphrasing former UN Secretary General Ban Ki Moon, the BBVA Chairman stressed that  "we are the first generation that can end poverty, the last that can end climate change." And in this context, he said, "we need to reimagine banking." In his opinion, "banks need to redefine their purpose," in a way such that it is "transformational and massive, seeking to make a difference on people's lives."
For BBVA's Chairman, four global milestones are heralding a turning point, which will also affect the social role of banks.
In first place, the global agenda, that binds not only countries, but also companies. This agenda includes the Paris Climate Agreement and the UN Sustainable Development Goals (SDG).
In second place, the huge market opportunity created by the SDG. In 2030, a $12 trillion market will require annual investments totaling from $5 to $7 trillion, of which 70% will concentrate in emerging markets.
Third, increasing pressure by institutional investors, which demand information on how companies integrate environmental and social aspects into their operations, as well as a long term vision.
And fourth, regulations and recommendations issued by international organizations.
In his presentation, Francisco González announced the bank would form part of a new initiative promoted by the sustainable finance forum of the United Nations (UNEP FI) on defining the Principles for Responsible Banking. This collaborative project, in which 24 banks across five continents will take part, is in line with the existing Principles for Responsible Investment and Principles for Sustainable Insurance.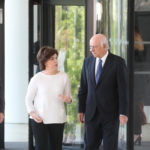 From left to right: Carlos Torres Vila, CEO of BBVA; Soraya Sáenz de Santamaría, Vice-President of the Government of Spain; Francisco González, Group Executive Chairman.
The vision of experts
Over the course of the one-day event, representatives from public and private institutions will exchange their views on topics related to sustainable finance and the fight against climate change.
The first panel will focus on how companies' agendas address climate change. Iberdrola CEO and Chairman Ignacio Sánchez Galán; Repsol CEO Josu Jon Imaz; and Isabelle Mateos y Lago, member of the BlackRock Investment Institute will share their insights in a  panel moderated by BBVA executive board member José Manuel González-Páramo.
Then, several experts will focus on the global agenda on sustainable finance. Simone Dettling, Banking Team Lead of the United Nations Environment Finance Initiative; together with José Manuel Marqués, Head of the Financial Innovation Division, Bank of Spain; and Wim Mijs, CEO of the European Banking Federation, will take part in this discussion, moderated by Antoni Ballabriga, Head of Responsible Business at BBVA.
The debate will then move to the role of public institutions in sustainable development. This round table, hosted by Head of BBVA Spain Cristina de Parias, will be joined by Pablo Zalba, Chairman of the Official Credit Institute (ICO); Birthe Brunh-León, Director, Iberia Operations, European Investment Bank (EIB); and Valvanera Ulargui, Director General of the Spanish Climate Change Office.
Finally, a group of experts will share their insights into sustainable finance solutions, in a panel moderated by Ricardo Laiseca, head of Global Finance, BBVA. The panel will consist of Gerassimos Thomas. Deputy Director-General for Energy of the European Commission; Philippe Zaouati, CEO, Mirova; and Muriel Caton, CEO of Vigeo Eiris.
BBVA, a leader in sustainability
BBVA is one of Europe's leaders in sustainable finance. The Group has the capability, knowledge and expertise to deliver specialized advisory services to its clients in sustainable finance solutions, whether bonds or loans, and is playing a key role in the development of both markets.
The bank was the most active 'bookrunner' in 2017 in the Iberian peninsula, and has become a key global player through the provision of green bond advisory, placement and structuring services for a number of clients in Mexico, the United States and Europe, in local currency, euros and dollars.
In the green loan business, BBVA was the world's most active financial institution in 2017, with a total of 11 transactions in Europe and Latin America for clients across a broad range of industries. The bank is also Spain's undisputed leader in this field.
In February, BBVA unveiled its climate change and sustainable development agenda to contribute to the achievement of the UN Sustainable Development Goals (SDG) and the Paris Agreement on Climate Change: Its Pledge 2025, an 8-year commitment (2018-2025) which focuses on three core lines of action: funding, management and involvement. BBVA has pledged to mobilize €100 billion in green and social funding, sustainable infrastructures and agriculture and financial inclusion.
In its commitment to manage environmental and social resources and minimize the potential direct and indirect negative impact, BBVA has set a target for 2025 that 70% of the energy used should be renewable, and to reduce direct CO2 emissions by 68% on the 2015 figure.
In line with this firm commitment to sustainability, BBVA recently issued the first-ever green bond by a Spanish institution, also the largest ever by a eurozone financial institution. To issue this type of bonds to address growing interest among investors in the fight against climate change, BBVA has developed its own sustainable bond issue framework, linked to the UN SDG. Through this type of issues, the bank funnels funds to finance projects in areas such as renewable energies, energy efficiency, waste management, wastewater treatment or access to basic needs and services, such as inclusive housing or finance.
Hashtag of the event: #BBVASFF