BBVA Compass boasts second (mile) high-profile event in Denver within five months
BBVA Compass' commitment to the Mile High City and surrounding areas was on a high-profile display for the second time in five months this week, when the bank brought Kevin Mitnick on Tues., March 13 to speak to clients at a forum.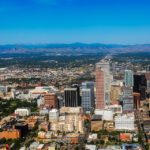 The event, held at the HALCYON, a hotel in Cherry Creek, featured Mitnick, now a cybersecurity advisor, and who was once one of the FBI's Most Wanted because he hacked into 40 major corporations just for the challenge. The event follows November's BBVA Compass event with bank brand ambassador and world-renowned chef Jordi Roca.
His depth of knowledge of the digital world and its dangers is phenomenal"
"We pride ourselves on providing unique client experiences, among many other components of our commitment to our communities," said BBVA Compass Colorado CEO Andy Wykstra. "Kevin is such an engaging public speaker, and his depth of knowledge of the digital world and its dangers is phenomenal. Those two qualities made for an informative and special event for our clients here in Colorado."
Mitnick spent the one-hour program speaking at length about new threats in the digital world, giving hacking demonstrations, and showcasing the ease of obtaining personal information – to the shock of many in the crowd. He also told stories about his background and how he got into hacking, including his favorite hack – using radio waves to highjack fast food drive-thru intercom systems.
"What are you looking at," he said he would shout into the system when a confused restaurant manager inspected the intercom, peering into the sound box.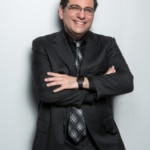 Kevin Mitnick.
The event was part of the Bright Perspectives series the bank holds for clients across its footprint, bringing leading minds and insights to attendees.
In November, the bank brought Jordi Roca of El Celler de Can Roca to Denver. Roca, with his two brothers, owns the restaurant, which has three Michelin stars and consistently places in the top three of 'Restaurant' magazine's World's 50 Best Restaurants list. Roca created a multi-course meal for two dinners on Nov. 1 and 2 for clients and prospects, also held at the HALCYON.
The meal consisted of one of the Roca brothers' most famous dishes, Dig Into the World, where five bites each consisted of flavors inspired by different countries visited on the BBVA Roca Tour in previous years. A dessert in the shape of a football was also included at the end of the meal- a nod to the local professional football team.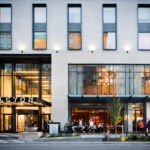 HALCYON, a hotel in Cherry Creek - the site of the BBVA Compass Bright Perspectives event with Kevin Mitnick.