BBVA finances Novo Hospital de Vigo with the first green project finance in Spain
BBVA has acted as Green Loan Coordinator of a €176 million green loan granted to Sociedade Concesionaria Novo Hospital de Vigo S.A., the concessionaire responsible for non-hospital services at the instititution, which has been renamed Hospital Álvaro Cunqueiro. Servizo Galego de Saúde, Galicia's healthcare service, awarded the 25-year construction and operation to the concessionaire, a consortium formed by Acciona, Grupo Puentes, Veolia España and Concesia.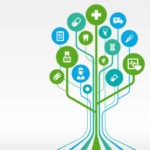 This operation is relevant not only due to its socio-economic impact on the region, but also because it is the first green project finance signed in Spain. BBVA and Santander have acted as financial advisors, bookrunners and mandated lead arrangers for the loan, in which Caixabank, Abanca and Banco Popular have also participated.
The new hospital was officially opened in 2015 and provides healthcare services to approximately 575,000 people in the city and surrounding areas. It is the largest healthcare construction project to take place in Spain in recent years. This new medical infrastructure, which forms part of the multi-hospital system, ensures coverage for the largest healthcare area in Galicia.
Novo Hospital de Vigo fits within several target sectors that are considered eligible to receive financing, according to the Green Bond Principles: renewable energy, energy efficiency, sustainable waste and water management, clean transportation and green buildings that meet internationally recognized standards or certifications.
The auditing company in charge of granting the green certification was Altermia. Novo Hospital de Vigo also obtained the BREEAM@ES certificate as a sustainable building and its energy management systems were certified to be in compliance with UNE-ISO 50001-2011.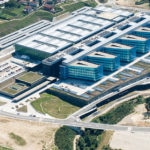 BBVA, a leader in sustainable finance
BBVA has the ability and knowledge to provide its clients with superior advisory on sustainable finance solutions, both in loan and bond format, and is playing a key role in the development of this market. BBVA has been the most active Spanish bookrunner in the green bond market in 2016 and is already a leading player in the booming green loan market, having closed different landmark transactions in 2017.
Among other relevant operations, this year BBVA financed the first green loan to a utility company for Iberdrola and the first green loan with a project finance structure - both on a global scale.
BBVA expects green loans to experience the same growth that green bonds did several years ago. For this reason, the bank seeks to promote and provide sustainable investments that will become more and more relevant in banking investment criteria.