BBVA is financing the development of 300 MW of incentive-free wind farms in Spain
BBVA has signed a financing contract with Forestalia, Mirova, GE and ENGIE to develop the first 300 megawatts (MW) of wind power free of subsidies and incentives in Spain. The 9 wind farm complex, dubbed the Goya Project, will be built in the province of Zaragoza. The 300 MW were awarded in the first renewable energy auction in Spain, held in January 2016, in which Forestalia was the largest bidder. This is also the first green loan to be granted in Spain under the "Green Loan Principles" in which BBVA has coordinated the issue, with Altermia providing Second Party Opinion.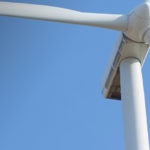 The capital of the Goya Project is shared between Forestalia (9%), the most successful bidder in renewable energy auctions in Spain; Mirova (51%), a sustainable infrastructure fund, part of the Natixis Group; General Electric (25%), the technological partner that will supply all the wind turbines; and ENGIE (15%), a company resulting from the merger of Gaz de France and Suez.
ENGIE, in turn, will guarantee the long-term purchase of the power generated by the wind farms following the signing of a 12-year power purchase agreement (PPA). This agreement is the first of its kind in Spain both in terms of its long duration and for being the first to be signed before the construction of the facilities is completed. ENGIE will also sell the electricity on the wholesale market for the entire service life of the wind farms (25 years).
General Electric, ENGIE, Acciona and Copsa will undertake the construction of the 9 wind farms. The civil works are scheduled to begin sometime during the first half of this year, with the aim of bringing the facilities into operation within the deadlines set in the auction (March 2020).
Investment and funding
The Goya Project is budgeted at about €300 million, which will be funded through shareholder contributions and €170 million in senior debt. The debt has been secured by BBVA, Banco Santander and CaixaBank and the European Investment Bank is expected to participate with a €50 million stake. BBVA acted as the agent bank for the operation. BBVA, Banco Santander and CaixaBank acted as joint bookrunners, underwriters and mandated lead arrangers.