BBVA hosts Encuentro Promociona to promote the presence of women in management positions
Around 300 female managers participated in Encuentro Promociona which was held at Ciudad BBVA. This event, chaired by Her Majesty Queen Letizia, is part of the Promociona Program designed to promote women's access to senior management positions and boards of directors of companies.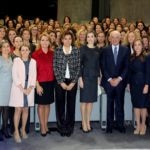 Encuentro Promociona, organized by the Spanish Confederation of Business Organizations (CEOE) and the Ministry of Health, Social Services and Equality, was also attended by the Chairman and CEO of BBVA, Francisco González, the Chairman of the CEOE, Juan Rosell and the Minister of Health, Social Services and Equality, Dolors Monserrat.
Francisco González was in charge of inaugurating the session and did so with words that highlighted the benefits of having more women in the upper ranks of business. "Well-managed diversity multiplies the impact of talent and represents a great competitive advantage," he said. "In a disruptive environment like the one we are living in today, companies must promote the presence of women in organizations because their contribution strengthens them."
Juan Rosell stressed the exceptional strength of women in business and thanked BBVA and its Chairman for having made it possible to hold the event. In addition, he spoke of his concern about the figures showing that Spain is still far from the ideal situation. Meanwhile, Dolors Montserrat, in one of her first public acts as minister, appealed to society to promote equality, break barriers to take full advantage of the talents of professionals and promote them to managerial positions.
Three years of progress
The figures from the Promociona project are beginning to yield results. In the three years since it has been running, more than 26% of the nearly 300 women in the 200 companies that are part of the initiative have managed to be promoted in the companies where they develop their careers. The program, funded by the European Social Fund, has the support of ESADE business school and offers participants; training, mentoring with senior executives, executive coaching, networking activities and participation in its 2.0 Community.
The main objective is that women are the protagonists of their own development and achieve the goals they are set. Regarding companies, the challenge is to make them understand the benefits of shared leadership. These include improving the working environment, image and corporate profits, in addition to increased profitability of human capital.