With the creation of this engineering company, home to 1,200 technology experts, BBVA seeks to expedite its technological transformation.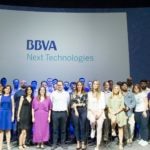 BBVA has decided to floor the gas pedal in its digital transformation process and double down on its emerging technology strategy with the launch of BBVA Next Technologies. The company, which employs more than 1,200 tech experts based in Spain and Mexico, is the result of the merger of two existing Group companies:  BEEVA, specializing in cloud computing and big data, and i4S, which focuses on cybersecurity.
BBVA aims to drive its technological transformation by leveraging BBVA Next Technologies' software engineering prowess in some of the most potentially-disrupting technologies, including big data, AI, blockchain and cybersecurity. But, with partnerships with AWS, Google Cloud Platform and Microsoft Azure and over 100 certified employees in these platforms, it is in cloud computing where BBVA Next Technology's expertise stands out the most.
Finally, through strong commitment to agile methodologies and a DevOps culture, the company is able to guarantee rapid and quality delivery.
The company's strengths are built on two defining principles: Technology and People. Technology understood as a competitive edge that impacts a business which strains for continuous innovation to stay one step ahead.
People in that it is fully aware its most important asset is exactly that; an exceptional team united behind a common passion, technology, and a shared culture that encourages continuous training and active involvement in the running of the company. At BBVA Next Technologies, people come first.
According to the company's CEO, Ricardo Jurado, "BBVA Next Technologies is a company that specializes in emerging and disruptive technologies, that strives to stay ahead of the curve, looks at the future and aims to recruit the best tech talent. That is why our name is a clear reference to what lies ahead, what's coming next."
Ignacio Bernal, Head of Global Architecture & IT Innovation of BBVA, and Chairman of BBVA Next Technologies, said that "the creation of BBVA Next Technologies is motivated by BBVA's need to fast track the Group's digital transformation process and boost the company's appeal in attracting highly specialized tech talent."