BBVA Next Technologies, winner of the APN Social Impact Partner Award of the Year
This award recognizes BBVA Next Technologies' commitment using technology to face COVID-19 crisis.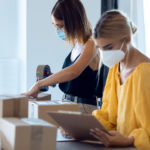 BBVA Next Technologies, BBVA Group's advanced software company, has been recognized by Amazon Web Services (AWS) for its efforts using technology to fight the COVID-19 pandemic. The APN Partner Awards recognize members of the AWS Partner Network (APN) who are leaders in the channel and play a key role in helping customers to drive innovation and build solutions on AWS.
Specifically, BBVA Next Technologies has received the ´AWS Social Impact of the Year 2020´ award for the solidarity program 'Tech4Change', an initiative created by BBVA Next Technologies in which more than 700 external collaborators have participated, together with a team of BBVA Next Technologies volunteers. All of them, as a team, developed two technological solutions devised by BBVA Next Technologies' employees to face the COVID-19 crisis. As a result of this initiative, two solutions have emerged:
Comercio a distancia a free platform that is helping small businesses in Spain and Mexico to manage 'online' orders. Comercio a distancia facilitates the reception and management of orders 'online' to small businesses - such as greengrocers, markets or pharmacies - that did not have the necessary infrastructure or technological knowledge. The purpose of this solutions is offering these businesses support to continue operating in the context of COVID-19;
KeepUsSafe, an app which is already available in Spain and Mexico. Through this app its users know the influx of people in certain places, such as supermarkets or parks, in order to avoid the busiest hours and reduce the risks associated with COVID-19.
"This award was not just won by BBVA Next Technologies, but also by the 700 external collaborators that participated in the Tech4Change solidarity program"
"This award was not just won by BBVA Next Technologies, but also by the 700 external collaborators that participated in the Tech4Change solidarity program offering all their knowledge and technological capacity to face the pandemic," says Ricardo Jurado, CEO of BBVA Next Technologies. "This award is very important to us because it is a recognition of the effort we are making to facilitate that our technological knowledge and ideas do not remain within the perimeter of our company but rather grow in community and have an impact on society."
Collaborating with the best is essential to be one step ahead, this is why BBVA Next Technologies has different technology Partners, such as AWS. BBVA Next Technologies has been an AWS Partner since 2012, reaching its highest level as AWS Premier Consulting Partner. The Company was one of the first Southern European companies to have achieved the AWS Data & Analytics Competency and AWS Machine Learning Competency designations.
In 2018, BBVA Next Technologies won the APN People Enablement Award for its effort to promote employee training and certification on AWS. In this sense, BBVA Next Technologies currently has more than 220 AWS certified employees.
Among the projects developed by BBVA Next Technologies using AWS services are the ones for companies such as Estrella Galicia, Viesgo, the Grupo BBVA and BBVA Asset Management, among others.
BBVA Next Technologies is a BBVA Group' advanced software company with more than 1,100 technology experts in Spain and Mexico. The company provides strategy and technology solutions for cloud, security, data, artificial intelligence, etc.