Antoni Ballabriga, Global Head of Responsible Business at BBVA, took part this Tuesday in a regional roundtable on the progress of sustainable financing, in an event organized in Switzerland by the UNEP Finance Initiative (UNEP FI) in association with the Swiss Sustainable Finance platform (SSF).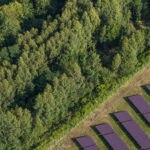 BBVA took the opportunity to share its vision on sustainable financing at this leading forum for the financial community, in which players from all over Europe came together to discuss the latest trends and innovations in this area, and to share best practices. The event marks the 25th anniversary of the UNEP Finance Initiative, the public-private collaboration program between the United Nations environment program (UNEP) and the financial sector.
"At BBVA we are convinced that the financial industry is at a tipping point that will bring about the scale of capital mobilization we need to curb climate change and attain the sustainable development goals (SDGs)", said Antoni Ballabriga in his talk.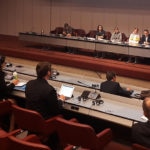 Antoni Ballabriga, Global Head of Responsible Business at BBVA, during his participation.
Four forces have radically changed the thinking on sustainability in the last few years, so today environmental and social challenges have become much more important in the business models of financial institutions, explained Ballabriga.
The inclusion of sustainability on the global agenda is already a fact. There is also a clear market opportunity: sustainable development goals will represent a market of 12 trillion dollars a year, and an expected annual investment of between 5 and 7 trillion dollars until 2030. In third place, there are investors with teams specializing in sustainability and the banks are developing an ever greater commitment to them. And finally, regulation, both obligatory and recommended, has intensified and is now far more stringent.
That is the reason why some European financial institutions are already working individually to integrate social and environmental considerations into their strategies and business models. "At BBVA we are defining a new Social and Environmental Framework to integrate these new emerging threats into our overall risk assessment framework, but also to promote the development of the extensive business opportunities offered by sustainable financing. In short, sustainability is an opportunity to help our customers and connect with their values", declared Antoni Ballabriga.
Sustainability is an opportunity to help our customers and connect with their values
BBVA has been working for some time on including the environmental factor in the decision-making process and has a sound project finance policy based on the Equator Principles. In addition, the institution is part of the group of 14 banks that have committed themselves to the United Nations environmental program (UNEP-FI) to implement recommendations on financing and climate change published in July by the Financial Stability Board under the G20.
BBVA, leader in sustainable finance
As a leading player in green finance, BBVA has the ability and the knowledge to provide its clients with superior advisory on sustainable financing solutions, both in loan and bond format, and is playing a key role in the development of this market. The Bank has been the most active Spanish bookrunner in the green bond market in 2016 and is already a leading player in the booming green loan market, having closed different landmark transactions in 2017.
Among other relevant operations, this year BBVA financed the first green loan to a utility company for Iberdrola and the first green loan with a project finance structure – both on a global scale.