BBVA has again been honored by Javelin Strategy & Research, with the independent research firm naming the bank's online banking service as a leader in its 2020 Online Banking Scorecard.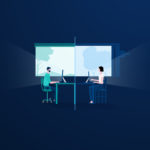 BBVA was named a "leader" in the scorecard's Money Movement category for the first time, marking the second consecutive year the bank has been named a leader in a Javelin Online Banking scorecard category. The bank was previously honored as a leader in Financial Fitness in 2019 and 2017.
"We are proud and honored to have our online banking recognized by Javelin yet again," said BBVA USA Head of Client Solutions Jose Luis Elechiguerra. "As we have seen throughout the pandemic, our customers have time and again used all of our digital solutions to manage their finances. Ranking as a leader for online banking in Javelin's report shows the breadth and depth of our digital capabilities, and their strength from end-to-end."
For its scorecard, Javelin evaluates 25 top U.S. financial institutions across 201 features and ranks them from highest to lowest in six categories. Categories are weighted according to customer feedback on what is most important to their satisfaction with online banking.
In the Money Movement category, Javelin looks to understand the financial institution's ability to allow customers to move money easily and securely with confidence, giving the category a 15% overall weighting in the study.
BBVA USA has been consistently recognized by Javelin for its mobile and online capabilities over the course of many years - for online banking in 2017 and 2019 and for mobile from 2014 through 2019.
We'll keep pushing forward...
"Receiving this recognition from Javelin tells us that we're on the right path, but there is always more to do and more room for improvement," said BBVA USA Head of Retail Customers Solutions Development Manolo Moure. "Rather than rest on our laurels, we'll keep pushing forward to ensure customers have what they need, when they need it. After all, data and technology are a key pillar in our new 5-year strategic plan. We will continue to build on the overall strength we have in our digital solutions to make sure our customers have the tools and ability to manage their finances in the way they want."
In recent weeks, BBVA USA has announced the launch of two new digital services - Mobile 9.0 and Expanded Transaction Detail - and its plans to open 15 new branches in 2021 across Texas. Each initiative underscores the bank's 5-year strategic plan, launched in early 2020.
For more on BBVA USA, visit www.bbvausa.com.