BBVA reduces real-estate exposure in record time with sale of €1 billion portfolio
BBVA has agreed to sell a property development loan portfolio worth €1 billion (gross) in a deal that virtually puts the finishing touches to its strategy of reducing its real-estate risk in Spain in half the time initially expected. BBVA estimates that including all the operations announced since December 2016 it has cut its gross exposure to the sector by €20 billion.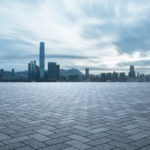 BBVA has signed the sale of 'Sintra', one of the biggest portfolios of loans to the property development sector in the Spanish market. The portfolio is made up of loans for developments of completed homes in Andalusia, Madrid, Valencia and Catalonia.
The operation essentially brings closure to the plan, announced at the start of 2017, to remove from its balance sheet both real-estate assets and non-performing loans linked to 'brick and mortar', built up during the crisis.
BBVA initially planned to reduce its exposure to the real-estate sector in three years but achieved its target significantly ahead of that timeframe. "Counting all the deals that have been announced, the bank has managed to almost entirely reduce its problematic exposure in half of the time estimated in our strategic plan," said Pep Ferrís, managing director of M&A at BBVA. "BBVA will be, by quite a distance, the Spanish bank with the least real-estate exposure among the country's leading institutions," he added.
BBVA has been one of the most active financial institutions in wholesale real-estate sales since the start of 2017. The biggest deal was the agreement with Cerberus, which was signed in November of last year and is expected to close in Q3-18. The deal involves 78,000 property assets with a gross book value of about €13 billion.
BBVA has closed a number of other real-estate operations, the first in February 2017 known in the market as the 'Buffalo' project involving the sale of close to 3,500 units. Shortly afterwards, it subscribed to a non-monetary capital increase by Testa Residencial with the contribution of 1,500 properties. In March 2017, it sold a portfolio of 14 office buildings in a transaction called the 'Boston' project. The sale of Torre Puig took place in May in what was one of the biggest property deals in Barcelona. Additionally, in July it signed an agreement with Metrovacesa Suelo y Promoción on the transfer of 108 plots of land for the construction of houses in a deal valued at €431 million. In the same month, it sold the 'Jaipur' project to Cerberus involving a portfolio of loans to property developers with a nominal gross value of €600 million. This year it sold 27% of its stake in Metrovacesa in the property company's IPO.