BBVA is embarking on a new phase in the US following the sale of BBVA USA to PNC. The bank, which has been present in the United States for more than 45 years through its New York branch, is working on a long-term growth plan focused on the wholesale banking business. Víctor Martínez, recently appointed Head of BBVA CIB in the United States, will be heading the business in the country.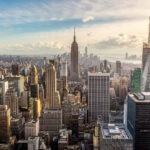 The United States is a key market for BBVA's wholesale banking business, due to its importance, its economic outlook and its strategic relationship with other important regions for BBVA, such as Latin America. In fact, The United States has a very large share of the liquidity funds for investing in emerging markets. That is why, following the sale of BBVA US to PNC, BBVA has launched a long-term growth plan for its wholesale banking business in the country.
The American wholesale client is at the heart of BBVA Corporate & Investment Banking's (BBVA CIB) plan. The bank, with its product and advisory capabilities, wants to grow and meet its objective of being relevant for its corporate and institutional clients. This will be done from New York where BBVA has had a wholesale banking branch for more than 45 years. New York is a key hub for meeting the investment and financing needs of clients with interests in emerging markets such as Latin America and Turkey.
New growth plan
BBVA CIB in the United States offers traditional wholesale banking products: transactional banking, investment banking, structured finance and global markets solutions. The new plan focuses on strengthening the bank's current capabilities while simultaneously developing specific product initiatives to take advantage of opportunities in the US market.
Among these opportunities is the sustainable finance market, where BBVA has been a leading bank in the origination and structuring of solutions for its customers, as well as in the development of the market itself. The bank wants to provide its clients in the United States with products and services to help and accompany them in the necessary transition to more sustainable business models.
BBVA has also set itself the goal of growing its project finance business in the United States (long-term financing of projects in the infrastructure and energy sectors) and, on the global markets side, in the equity derivatives business.
Víctor Martínez, Head of BBVA CIB in the United States, said: "Our goal is to grow in the United States by diversifying revenues, bringing innovative solutions to a broader client base and enhancing our position as a strategic partner for clients with interests in Latin America. This growth will undoubtedly generate value for our shareholders and our global clients."