BBVA, Repsol sign agreement to develop blockchain-based financial solutions
The two companies have just used the blockchain technology to renew a credit line worth €325 million, the first initiative of this collaboration.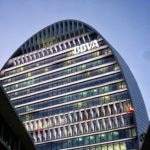 BBVA and Repsol have just closed a revolving credit facility (RCF) which for the first time uses distributed ledger technology (DLT) in a pioneering pilot in the area of corporate finance. Negotiation of the long-term credit line worth €325 million was completed using BBVA's blockchain network, which reduced the process to a matter of hours rather than days in a fully transparent operation that allowed the tracking and approval of the documentation involved.
Alicia Pertusa, Head of Strategy and Blockchain at BBVA, said the first pilot by BBVA and Repsol kicks off an alliance to explore the potential of DLT technology in corporate finance. "This operation is the fruit of BBVA's pursuit of integrating innovative and disruptive financial products for corporate clients and to offer them the best solutions that meet their needs," Pertusa explained while taking part in the third day of the Spanish Association of Economic News Journalists (APIE) conference organized at the International Menéndez Pelayo University (UIMP) in Santander and sponsored by BBVA.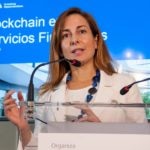 Alicia Pertusa, Head of Strategy and Blockchain at BBVA.
Today's agreement comes within BBVA's strategy of harnessing the advantages of blockchain in corporate banking and of enhancing the use of the entire range of products and services in this business area. BBVA recently unveiled the first corporate loan using blockchain technology in conjunction with the Spanish technology group Indra in a deal worth €75 million. Earlier this week BBVA CEO Carlos Torres Vila announced that the Group will begin testing the negotiation and contracting of syndicated loans using blockchain, which will allow to dramatically streamline processes in this kind of operation.
This latest development is a natural evolution of the platform designed by BBVA, which has now taken bilateral corporate loans to another level by showing its viability for revolving credit facilities. The deal reaffirms BBVA and Repsol position at the vanguard of the application of these new technologies, which, while still requiring further development from a regulatory and technical point of view, are already showing the extent to which they constitute a leap in efficiency in financial processes.
For Repsol, the accord with BBVA advances its focus on digitization and innovation. The Spanish energy group has earmarked blockchain as a technology with great potential and competitive edge for its new businesses. Repsol already has a lab for its lines of development in improving financial processes with added security and efficiency and advances in the supply chain and client fidelity.
"Repsol wants to actively take part in collaborative environments. Blockchain is a disruptive technology that is here to stay and the agreement with BBVA advances our strategy of driving digitization in all areas of our activity", said Nuria Ávalos, the head of Blockchain and Digital Experimentation at Repsol.
The solution developed by BBVA and Repsol used different types of blockchain. The negotiation between BBVA and Repsol and agreement of the conditions was developed using a private blockchain network (Hyperledger), while the signed contract was registered used the Ethereum test network (testnet) through a hash, or unique document identifier that guarantees its immutability.
Improvement in processes
During her presentation in Santander, Alicia Pertusa noted that the private (or federated) side of DLT has allowed financial institutions such as BBVA to take forward improvements in processes in areas such as payments, the issue of securities and international trade as well as in projects focused on digital transformation.
BBVA forms part of the main international consortia looking to create standards such as R3, Hyperledger, Enterprise Ethereum Alliance and Spain's Alastria.
Turning to the challenges facing financial institutions to strengthen the use of blockchain in the financial sector, Pertusa underscored the primary need for regulations that protect users while encouraging innovation. Technically, she said, DLT need to be more robust, facilitate scalability and have inter-operational standards that guarantee communication among different networks.
The new tie-up with Repsol will drive the development of new services and customer experiences that are more rapid, transparent and competitive.