BBVA​ ​takes​ ​another​ ​step​ ​forward​ ​in​ ​its​ ​transformation,​ ​through​ ​an alliance​ ​with​ ​IBM
BBVA signs an agreement with the technology company to transform the Group's data processing systems, which will accelerate its technology strategy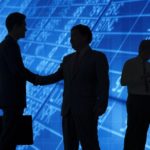 BBVA is stepping up its digital transformation process. The Group has just signed an agreement with IBM for the operation and optimization of BBVA's current technological infrastructure. The agreement allows the Group to advance in its 'cloud computing' strategy, through the optimization and transformation of its current infrastructure.
The agreement with IBM is the latest in a series of alliances that the Group is forging to ensure support from the best partners in its digital transformation process. According to BBVA Global Head of Engineering Ricardo Moreno, "This agreement will allow us to leverage IBM's know-how and potential to continue progressing in our transformation process to become a digital institution with great flexibility and scalability, capable of offering the best digital banking services to our customers."
IBM Spain, Portugal, Greece and Israel General Manager Marta Martínez said, "BBVA is a world leader in innovation and we are proud to know that they have confidence in our capabilities and experience in the financial sector to advance in their transformation strategy."
For years, BBVA has been preparing for the paradigm shift brought on by digital banking and the exponential growth of financial transactions, where cloud technologies play a key role because of the levels of agility, scalability, improved productivity and efficiency they enable.
With this agreement, BBVA sets the best scenario to move ahead with its transformation and to promote the implementation of technological solutions, while always maintaining internal control of the strategy.
The agreement between BBVA and IBM will allow the bank to:
● Evolve the data processing service to the highest standards of quality, service and security, while ensuring the highest levels of innovation;
● Optimize the infrastructure consumption model towards a more flexible, consumption-based scheme with varying costs.
This agreement is part of the new partnership network that BBVA has been building over the past year and a half, in which the Group has priority partners, in a relationship involving much closer collaboration.