Francisco González: "The transformation will benefit customers the most"
Speaking at BBVA's 2016 results presentation, Francisco González said that after 10 years of working on the Group's transformation, progress is becoming increasingly evident for the bank's customers. And how is that showing? In new digital services and products with a better user experience.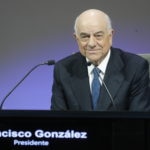 The digital push is already showing in the level of satisfaction among customers. For example, in terms of NPS – Net Promoter Score, the index that measures the level of satisfaction of customers with their bank -, BBVA's mobile banking application earned a positive rating of 63%, 20 percentage points more than a year ago, and the highest among its peer group.
BBVA Executive Chairman explained that "all these years we've managed the short term without losing our medium and long term focus. We've faced all the challenges that came our way without veering away from our great project, BBVA's transformation."
In a sector such as the financial services industry, that's being turned upside down by the ascent of mobile devices and exponential technologies such as big data or artificial intelligence, what's your strategy for the future? "To transform very quickly," growing our customer base exponentially. "That's the name of the game," said Francisco González. In this sense, he noted that "BBVA has now the capability to execute", which will allow it to compete on a global scale. BBVA Executive Chairman emphasized the "forward-looking vision and well-defined strategic priorities" of the Group, which offer a "tremendous competitive advantage" in the digital market, which BBVA knows by heart.
1

BBVA earns €3.48 billion in 2016 (+31.5%)

Income: Net interest income increased 3.9% in 2016 (+14.9% stripping out the impact of currencies). The fourth quarter was the year's highest (€4.39 billion). Cost-containment efforts improved the efficiency ratio (51.9% in 2016)

2

BBVA earns €3.48 billion in 2016 (+31.5%)

Risks: BBVA Group's NPL ratio improved to 4.9% in December (from 5.4% at the end of 2015), with coverage ratio of 70%

3

BBVA earns €3.48 billion in 2016 (+31.5%)

Capital: BBVA reached a fully-loaded CET1 ratio of 10.90%, after generating 58 basis points in the year. The Group maintains its 11% target for 2017

4

BBVA earns €3.48 billion in 2016 (+31.5%)

Transformation: At the end of December 2016, BBVA's digital customer base stood at 18.4 million (+20% y-o-y). Mobile customers grew 38% to 12.4 million

5

BBVA earns €3.48 billion in 2016 (+31.5%)

Dividend: BBVA plans to implement the shareholder remuneration policy announced in 2013, which aims to distribute between 35% and 40% of profits to dividend payouts, with a 100% cash dividend
For his part, BBVA CEO Carlos Torres Vila underscored the importance of launching digital services and products, such as Alta Inmediata (mobile online onboarding) and BBVA Valora (property appraisal tool) in the Spanish market, or the Remote Manager feature in countries such as Turkey. This strategy is already having an impact on BBVA's digital sales numbers in Spain, which have more than doubled over the past year: from 8% of total transactions at the end of 2015 to 17% in 2016.
"A solid set of results in a complex environment"
That is how BBVA Executive Chairman summed up the Group's results in 2016. Francisco González highlighted the positive evolution of revenues (net interest income, gross income and operating income) despite factors such as the depreciation of the Mexican peso, the Turkish lira and low interest rates.
BBVA Executive Chairman underscored the importance of the Group's solid capital base at the end of the year, with a fully-loaded capital ratio of 10.9%. Also, he noted that efficiency improved by 51 basis points over the past year. "We are ahead of our group of peer competitors," he said.
Expedited reimbursement of floor clauses
Francisco González announced that BBVA will respond in an "expedited manner" once the Spanish Supreme Court clarifies certain issues related to the ruling of the European Court of Justice regarding floor clauses. BBVA has already in place a "highly capable team to address our customers' claims and offer a quick response to their requests," he said.
New government in the U.S.  
Francisco González dubbed Donald Trump's election the "biggest world event" in 2016. In this sense, he said that "things will normalize" after the "learning curve that every new administration has to go through."
Regarding the potential impact of the new government's decisions on Mexico's economy, where BBVA Bancomer is the top financial institution, BBVA Executive Chairman admitted that the country is "bearing the effect of shifting policies, which will have an impact in the short-term" and said that for 2017 he expects the country's economy to grow about 1% with downside risks. "I am very optimistic about Mexico in the medium and long term," he said.
In fact, Carlos Torres Vila underscored that in 2016 BBVA had an "outstanding year" in Mexico. "Performance has been spectacular," he said. Just as in Turkey, where BBVA CEO pointed out that "Garanti closed an exceptional year in a complex environment." He also noted the double-digit growth in revenues in South America. In developed countries, Spain started realizing the synergies of the merger with Catalunya Banc. In the U.S., "things improved as the year wore on," he said.