Are banks too big to innovate? This is a common question asked in the fintech world and one that was discussed at Citi's Annual Digital Money Symposium in London this week. BBVA has some experience with this so it joined the discussion and shared some insights.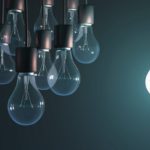 The banks clearly have a desire to innovate, as demonstrated by the panelists with examples of successful launches of innovative new products. BBVA, for example, created Commerce360, a tool that uses artificial intelligence to analyze transactional data from POS terminals and credit cards to help merchants improve the way they run their business.
But the interesting thing about a tool like this is that it is the kind of focused and unique product that you might expect to be created by a fast-moving fintech startup rather than one of the world's biggest banks.
So why wouldn't you expect a big bank to quickly deliver this kind of innovation. Because, as Huy Nguyen Trieu, CEO of The Disruptive Group who also launched the Around FinTech in 80 Days training platform, pointed out "banks love processes and it's precisely those processes that slow down innovation."
Perhaps the most insightful revelation that came out of the panel discussion was an agreement by all involved that the biggest need for banks to be truly able to innovate is a change in culture. Alicia Pertusa, BBVA's Head of CIB Digital Strategy & Transformation, commented that "it requires commitment from the top and we have it through our Chairman and CEO."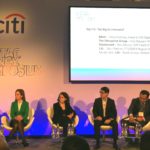 From left to right: Ken Moore, Head of Mastercard Labs, Alicia Pertusa, Head of CIB Digital Strategy & Transformation, Ebru Pakcan, TTS EMEA Region Head, Huy Nguyen Trieu, CEO of The Disruptive Group, and Ronit Ghose, Global Head of Banks Research. - BBVA
Measuring ROI on innovation can also be a challenge for banks. Some panelists pointed out that metrics need to change. "At BBVA we have six strategic priorities, including digital sales, new digital businesses and a new standard in customer experience," said Pertusa.
But, she added,  this is not the only way BBVA innovates and when it comes to measuring return on our investments, the bank looks at a different set of variables. She added: "We're looking for profitability but in addition we think knowledge and unique capabilities are key."
For example, Madiva, a big data startup BBVA acquired in Spain, is helping the bank transform its mortgage business by giving customers an easy and quick way to value their home (BBVA Valora).
Another example is Spring Studio, a design firm BBVA acquired in San Francisco. It works with the business on the design of online applications for retail and corporate clients and teaching how to approach the process from the perspective of our customers' needs. These two cases clearly show how transformation of BBVA's core business can be an important and non-traditional metric of innovation.
Prodded by a question from the audience, Alicia also commented that it's important to take into account all the stakeholders in innovation. "It's not just about our customers...it's also about our employees. It is important that bank employees benefit from technology, and that those that have contact with clients understand the tools and can use them."
The conclusion? Yes, big banks can innovate, but sometimes it just takes us a bit longer.  Which is why digitally focused banks like BBVA also work hard at building partnership and working with the wider fintech start-up community, so we have the best of both worlds and can bring new products and services to our customers and clients as and when they want them.