Carlos Torres Vila: "Technology and innovation are for the ultimate benefit of financial services' consumers"
BBVA CEO Carlos Torres Vila today said that "technology and innovation are for the ultimate benefit of financial services' consumers," which is why financial players, such as BBVA, are designing new digital products and services based on enabling technologies, innovative infrastructures and new business models. Carlos Torres Vila took part in the 12th Banking Industry Meeting, organized by IESE Business School, that brought together top names in the Spanish banking sector, scholars and authorities.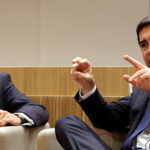 BBVA's CEO started his presentation, which focused on the reinvention of banking and future scenarios, with an assessment of the transformation of financial services in the wake of the arrival of disruptive non-banking competitors (fintech), more nimble and with lower cost of operations. In this sense, he pointed out that incumbents have been forced to face the challenge posed by startups and make headway toward a new banking model, where technology has become the name of the game.
Speaking to some 150 representatives of the Spanish financial and banking industry, Carlos Torres Vila emphasized that technology has also paved the way to an unprecedented shift in habits among customers, which has forced incumbents to review their product and service distribution models. "People are demanding easy and convenient experiences when interacting with banks, and mobile is the effective vehicle for this new stage". The banks of the future will be the ones that can combine DIY access to financial transactions with personalized assistance in the moments of truth, and here is where branches will play a key role, said Carlos Torres Vila.
Facing this new paradigm, Carlos Torres Vila recounted how the Group was one of the first ones to realize that it had to redefine its value proposition to retain customer relationship, as reflected by BBVA's six strategic priorities. Among them, he emphasized the focus on driving digital sales, developing new business models, optimizing capital allocation, leading in efficiency, attracting world-class talent and setting a new standard in customer experience. The CEO explained how BBVA has singled out customer experience as the cornerstone on which to build its strategy and its leadership in the banking sector, leveraging the available technology to strengthen its relationship with the customer and earning what he dubbed "digital trust".
After his presentation, Carlos Torres Vila held an informal chat with Imran Gulamhuseinwala, Head of Fintech at EY, during which he stressed the key role that people play in speeding up innovation in large corporation such as BBVA. "Transformation has to be accompanied by a cultural shift, because it is people that make it possible. We are doing a lot, but we still have a lot to do," he stressed.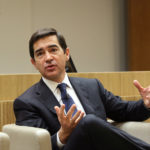 BBVA CEO Carlos Torres Vila at the IESE 12th Banking Industry Meeting this morning.
Carlos Torres Vila took the opportunity to underscore the tremendous impact that data and artificial intelligence will have on the products and services offered by financial institutions. "Data has become the foundation of the relationship with customers" and the Group is already working on set of cognitive services and algorithms targeted to give the best CX and to improve productivity (better segmentation and product personalization) and productivity improvements, he explained.
Regarding the role of regulation in the innovation ecosystem, BBVA's CEO noted that, in order to facilitate the transformation of financial services incumbents, fintech and regulators should work together. In this sense, he stated that innovation requires level playing field, where similar products and services receive a similar regulatory treatment.
With respect to the so-called challenger banks in the financial sector, Carlos Torres Vila said that this type of companies are enriching the financial ecosystem, but reminded that incumbents that are tackling their transformation processes. He also stressed that BBVA has already built a wealth of expertise regarding challenger banks, thanks to its investments in Simple, in the U.S. and Atom, the UK's first mobile-only bank.
To conclude, the CEO shared three key managerial aspects that BBVA applies. In first place, he pointed out that "we all share customer responsibility" because it is a unique commitment with them. In second place, he expressed "the need to put an end to the so-called management silos" and apply a cross-departmental approach to work, where the distinction between global and local disappears. Finally, he stressed the importance of ensuring that "the sector is not adverse to change" because it needs to promote innovation and move ahead.