Carlos Torres Vila: "We want to turn data into opportunities for our customers"
BBVA CEO Carlos Torres Vila considers that "it's an exciting time for the financial sector, due to everything that data and technology are allowing us to do." In a conference held this Thursday in Madrid by the ABC-Deloitte Forum, he shared his upbeat view about the transformation journey that BBVA is on: "We want to turn data into opportunities for our customers".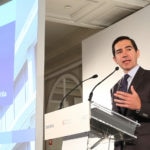 Most of Carlos Torres Vila's presentation revolved around the transformation journey that the bank is on. He noted that the current moment offers a great opportunity, and this transformation is being made possible thanks to BBVA's proven resilience in the sector's complex environment. "BBVA, in this context, has managed to keep a solid stream of revenues, as a result of its geographical diversification, prudent risk profile and capital strength," he underscored.
During his presentation in the '24th Meeting of the Financial Sector' organized by ABC, Deloitte and Sociedad de Tasación, BBVA's CEO noted that "we have a great opportunity to improve our customers' experience, and bolster the efficiency and quality of the service we offer thanks to technology". He also stressed that "the pivotal element here is the exponential speed at which new technologies – the cloud, blockchain or Artificial Intelligence – evolve."  "At BBVA, we want to capitalize on this technology to bring the age of opportunities to our customers, through our six strategic priorities," he added.
Regarding the ways of achieving this goal, Carlos Torres Vila stressed the need to follow a two pronged approach, separating what the customer sees ('above the glass') and developing the components of the company's value change, and on the other hand, what the customer does not see ('below the glass'), with much more responsive operations, technologies and methodologies.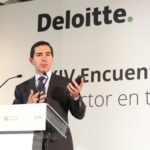 Customer experience is the cornerstone of our strategy
Carlos Torres Vila also argued that the results of BBVA's new functionalities – which are part of the 'Revolution of Small Things' are already showing. "In Spain, we are leaders across all channels, and improved our net recommendation index from 43% to 63% in the mobile channels", he said. Also, he noted that BBVA is the first bank in Spain to launch a mobile-based immediate account opening service, requiring just a selfie and a videocall. "Digital channels are already responsible for attracting 17% of all new customers", he said.
BBVA's CEO underscored the exponential growth in digital customers and sales. "16.8% of sales in 2016 were digital, compared to 9.9% one year ago", he said. There has also been significant progress in the field of advisory services: For example, more than 1,300,000 searches have been run through BBVA Valora, the bank's home buying support app, since it launched in September 2016.
Finally, Carlos Torres Vila shared his insights into the importance of earning customer trust to provide them a value added that helps them make better decisions, "generating a virtuous cycle of trust."