Centennials, the generation that has never known a world without the internet
Millennials and centennials, or Generation Z, will be the world's largest demographic by the year 2020. Online shopping and reviews from other users impact the way they consume. Brands are watching the Centennials closely, to learn how to speak their language and win over the consumers of future.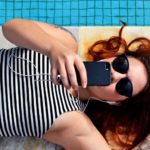 "They grew up with a smartphone in hand, social networks are a way of life, they communicate in real time with messages and emoticons and they have no memory of a once disconnected world." This is how the U.S. bank Merrill Lynch defines the centennials. This bank published a report entitled "New Kids On The Block. Millennials & Centennials Primer," which analyzes how Generations Y and Z see consumption, finance and technology.
Centennials, who are still minors, and the millennials - or Generation Y - who are currently between the age of 19 and 35, total approximately 4.4 billion people around the world, according to the Spanish newspaper El País. The figures show that both generations will comprise 59% of the planet's population by 2020, and for this reason, are being targeted by companies.
Millennials y centennials have $21 trillion (€19 trillion) in income. They represent 35% of the global domestic income. Some 88% live in emerging markets, 90% own a smartphone and by 2025, they will control 47% of the planet's funds.
Together, yet different
Brands have realized that lumping these generations together is a mistake. Even though both groups are digital natives, centennials have never known life without social networks, or the Internet, and this impacts the way they live and consume.
Centennials behave differently from millennials. According to Business Insider, today's minors prefer to invest their money in products rather than experiences. Unlike Generation Y, Generation Z likes to own and purchase things, and they prefer to do so online. This was confirmed by the company Piper Jaffray's, which analyzed how these children of the Internet age spend their money. However, centennials are not happy with just any online store. They prefer those that also have a physical location.
These young people make most of their purchases on their smartphones. Those who decide to go to an actual store first interact with the brand on social networks. More than any generation before it, Generation Z trusts reviews from other consumers. "95% of centennials read online reviews when shopping and half would not buy a product if they do not find enough comments about it," maintains the company ReviewTrackers, which compiles reviews from Google, Facebook, TripAdvisor and other website, and also measures user experience.
The difference lies in social networks
Experts say there is a gap in the way each generation uses social networks. Centennials tend to share their own images. Sending files on Snapchat and posting pictures on Instagram is the best way to connect with them and discover their interests. "Centennials' attitude toward Snapchat is completely different than Facebook, which illustrates the generational change," says Martin Sorrell, CEO of the advertising group WPP.
Generation Z likes to keep their "things" away from family and tend to be volatile, so they love platforms like Snapchat in which the content remains for a set amount of time. Centennials also have stronger decision-making skills. As reported in The New York Times, centennials' attention span is very short, and they bounce rapidly among their smartphones, tablets and computers, with very low tolerance for traditional advertising. They are used to sensory overload, so they need much less time to filter through information.
The agency Publicis estimates that centennials' attention span is just eight seconds, while millennials can concentrate for about 12 seconds. "To reach Gen Z effectively,  you'll need to communicate like they communicate. Gen Z expect to receive short and frequent messages, so you must deliver messages frequently and easily (both easier to understand and easier to digest). With centennials using a more intuitive, visual language than older generations (think emojis), you'll also need to think about communicating through images," says an article on Publicis' "Tomorrow´s Target: Marketing to Centennials."