UK based Atom Bank has announced that its Chairman and Founder, Anthony Thomson, is to step down from his position with the company.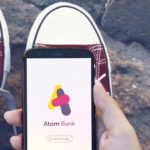 The bank, of which BBVA owns a 29.5% share, has appointed Bridget Roswell to take his place as Chair - subject to regulatory approval. Thomson had been the Chairman of the mobile-app focussed bank since its inception in 2014, and oversaw the bank gaining a banking license and subsequently raising over £250 million.
Atom, which has been one of the fastest growing start-up neo-banks in the UK, has since taken over £1 billion in deposits and lent more than £1 billion to small businesses and homeowners.
Atom Bank's success and status under Thomson's chairmanship has been widely recognised, with the bank continuing to hold a top 10 position in KPMG´s global fintech rankings for each of the last three years.
Commenting on his decision to retire, BBVA CEO Carlos Torres Vila, said: "Above all, businesses invest in people. Anthony's vision and his ability to build great teams was fundamental in our decision to invest in and continue to support Atom Bank. We thank him for his exceptional leadership and contribution, and we wish him well into the future.
I am very happy to join in welcoming Bridget's appointment to Chair the business, and we look forward to working closely with her, Mark and rest of the Atom Bank team"
Speaking of his decision, Anthony Thomson said: "Since having the idea for Atom Bank in early 2012 it has gone from being a big idea disguised as a small bank to a big idea and a big bank.
"I am immensely proud that Atom Bank has now completed over £1bn of lending to households and small businesses. This is a testament to the efforts of every person at Atom Bank, and to the support of all of our shareholders. As Founder I remain fully committed to Atom Bank's success and will remain a shareholder"
Noting Thomson's founding role in the creation and build of Atom Bank, Bridget Rosewell said:  "It is thanks to Anthony's vigour and dedication that Atom Bank is what it is today. "Anthony is the consumer's champion, leading from the front to bring true competition to the industry and to change banking for good. It is with regret but also great admiration that the Board have accepted his resignation, and I and my colleagues fully understand his reasons for leaving having brought the business to maturity and achieved so much so quickly.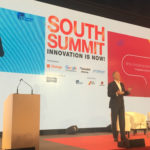 Anthony Thompson during South Summit event.
Mark Mullen, Chief Executive Officer at Atom Bank said: "Without Anthony there would be no Atom Bank.  His skill, experience and entrepreneurial drive have shaped and driven the business from its earliest incarnation.  It has been my privilege to make this journey in his company and both I and the entire Atom Bank family owe him an immense debt of gratitude.
We wish him well in all of his future endeavours and I am sure there are more chapters to come in his extraordinary story"
"At the same time I am delighted to have the chance to work even more closely with Bridget Rosewell as the new Chair of Atom Bank. Bridget has been an active and engaged member of our Board from the beginning of Atom Bank. In addition to huge experience of UK banking, Bridget brings a zest for analytics and innovation as well a deep and diverse expertise of delivery in both the public and private sectors."