This year Davos' World Economic Forum (WEF) once more brought together world leaders, experts and thinkers to discuss the big economic matters that invite global concern. Over the course of the global event's tight agenda, there was room for the inclusion and education of woman in financial affairs.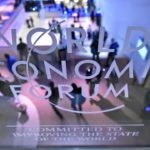 Things are changing bit by bit and the Davos Forum reflected this by bringing women more to the fore. For the first time in the history of the event, seven women leaders co-chaired the forum in keeping with its commitment to bridge the large social and economic gap between men and women. The co-chairs took the opportunity to argue in favor of empowering their fellow women and the struggle for gender equality through education and opening up for them the possibilities obtaining finance. "Denying women equal rights has no valid ground.  Economically and politically it makes no sense," said Norwegian Prime Minister Erna Solberg.
A bank for women
The subject of much-sought-after equality took prominence at the debate, and financial inclusion stood out as one of key areas in achieving that goal. Chetna Sinha, the founder of the first bank for women in India, is an example of how to secure financial independence for women through entrepreneurship. "I come with solutions for creating a more inclusive and equitable world. All learnt from listening to women at grassroots," Sinha posted on her Twitter account. The bank focuses on rural areas where, through financial education, women learn to manage their finances and in doing so achieve greater freedom in their finances and their lives. They build on their business acumen, accessing credit to grow and forming part of a support group for women entrepreneurs. The next goal for Sinha is to set up an alternative investment fund for businesswomen: "Women want to prosper from micro-finance to micro-enterprises".
However, despite the achievements of these initiatives, only 40% of women in G20 countries have access to a bank account and an even smaller ratio, only 10%, have access to bank loans" to take their small- and medium-sized enterprises forward. A lot remains to be done.
Soft skills that change the rules of the market
Equality among countries was also on the agenda at Davos where there was much discussion of education as they key to achieving this. "Over the past four years, for the first time in our history, education has been the government's top priority," explained Colombian President Juan Manuel Santos. Santos upholds a good education as the key to eradicating poverty and preventing it from perpetuating itself.
However, training, including financial education, must distance itself from traditional parameters to be really effective, according to Jack Ma, the founder of the e-commerce company Alibaba Group. Ma spoke of an education in which "children are taught soft skills such as independent thinking, values and teamwork". Minouche Shafik, the director of the London School of Economics, backs this idea, arguing that what is needed is "soft skills, creative skills research skills, the ability to find information, synthesize it, make something of it". These skills can also focus on financial education, which Shafik argues is more than ever necessary in a world in constant movement: "We need to rethink how to help people adapt to this new economy".
In order to improve financial education you need to draw on quality information.  You can find all the relevant material on financial education in the world at BBVA's Center for Financial Education and Capability.