Derek White, Global Head of Customer Solutions for BBVA, presided over the European final of the 2016 Open Talent competition. He took advantage of his time in London to analyze the challenges banks are facing and the role of the fintech ecosystem in financial services.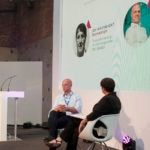 London hosted the European final of the 2016 Open Talent competition, where entrepreneurs and startups had the chance to discuss the concerns facing the fintech world with different BBVA Group executives.
The event was also a learning opportunity, for both BBVA and the entrepreneurs, as BBVA's Global Head of Customer Solutions, Derek White, stressed. He chaired the jury for the competition, and also participated in an informal dialogue with The Banker's Joy Macknight, as part of the Next Money London event.
Derek White explained to the entrepreneurs that the world is moving toward a "hands-free" future, where specific devices, like computers, will no longer be needed: "I think the future will be 'hands-free' and that will change everything." The technology exists and we need partners to make progress in this direction, he explained, offering devices that interact with users through voice commands like Amazon's Echo as an example.
For Derek White, it's crucial to recognize that emerging new technologies will change the way people relate to each other in different aspects of their lives. This includes financial services, as well as the way companies engage with their customers and how governments interact with their citizens. "I think this will reinforce the do-it-yourself (DIY) culture. And it will all be done in a non-intimidating, intuitive manner that encourages engagement. The key is to help people make those decisions more easily. And here, big data and artificial intelligence will be important allies," he said.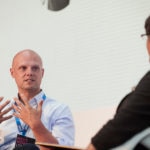 BBVA Global Head of Customer Solutions during his chat with The Banker's Joy Macknight.
Internal and external challenges
In his analysis of the financial sector, Derek White noted that banks are facing external challenges like the intense competition from fellow incumbents, the need to increase revenue line and their results and the evolution toward a completely new future. But he also stressed the internal challenges and the way in which institutions are being transformed.
On this note, he reminded participants that BBVA is a bank open to disruption and technology. "It's not just about investment in platforms, which we have done, it is not just about bringing design into the core of the business, which we have done through the acquisition of Spring Studio. So much of BBVA strategy emanates from the leadership team, starting with our Chairman, who started his career as an IBM programmer, or the CEO, who is an engineer. Innovation and disruption seat at the very fabric of the DNA of the individuals and cascades down the organization."
Regarding the future of banking, Derek White believes that we are witnessing the rise of a new model where the closed systems that currently dominate and keep people captive will no longer exist. "We are moving toward a different model with open systems, automated platforms in which anyone can contribute capacities and help improve solutions for customers."
BBVA is committed to these developments and relies on open innovation and collaboration with startups as drivers of this transformation. This commitment has led the bank to start initiatives like Open Talent, now in its eighth edition, as well as its open platform strategy to work more closely with the ecosystem of fintech entrepreneurs, he added.
Advice for entrepreneurs
Derek White also shared some advice with the entrepreneurs participating in the 2016 Open Talent competition. His first piece of advice is to know how to embrace no. "If we really believe that we have something amazing – and we hope that's the case because if not, it won't survive – we have to channel those challenges, those noes, and understand why, for example, our idea has not worked," he explained.
His second piece of advice was how important it is to lead a project and become the initiative's "storyteller". "It's a very valuable asset for entrepreneurs that is sometimes underestimated." Finally, he stressed the importance of learning to delegate. "An entrepreneur has to be able to identify what he/she is good at, focus on it, and delegate other responsibilities. You need to learn to trust your team and hold them accountable."