Garanti Bank won big at the 30th Crystal Apple Awards advertising event in Turkey. The bank took home five different awards, including a Special Award, a Great Prize, a Crystal, a Silver and a Bronze award.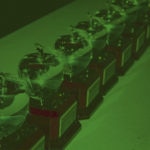 Admired for the creativity of its advertising campaigns over the years, Garanti earned a Special Award in the Encouraging Creativity for 30 Years category. Furthermore, its new YouTube channel, MegaTeknoForce, was recognized with a Great Prize and a Crystal Apple Award for the Online Movies division of the Banking, Insurance and Financial Services category. Garanti's Imagination Makes the World Go Round concept for its annual report also won a Silver award in the "Design category - Activity reports".
In addition to these awards, the bank's YouTube channel, MegaTeknoForce, also took the bronze in the Digital, Social Media and Activation category. The channel featured Youtubers Bartu Küçükçağlayan and Feyyaz Yiğit taking banking to the extreme. For example, they use a QR code to withdraw money while bungee jumping and test the response time of digital credit technology at an upscale restaurant by trying to get a loan immediately after asking for the check.
Elif Güvenen, Corporate Brand Management and Marketing Communications manager at Garanti Bank expressed her gratitude for once again being recognized in a variety of categories at the Crystal Apple Awards.
"As a leading brand, Garanti Bank is aware of our responsibility to innovate, and we keep this in mind throughout the year in everything we do. Creativity continues to be at the heart of all our communications. Similarly, creativity is essential in our ad campaigns because it is the most effective communication tool we have to connect with our consumers. We are ecstatic that our uncompromising and devoted efforts have once again been recognized at Crystal Apple, one of the leading organizations for the advertising world. We would like to thank everyone who contributed to our bank's delivery of such influential, innovative and creative works, notably our agencies."