Garanti BBVA was named 'Turkey's Best SME Bank' by international publication Global Finance. The evaluation was based on data provided by banks in this business segment, with an in-depth analysis of available products and services, and inputs from industry professionals, managers, technology experts and independent research.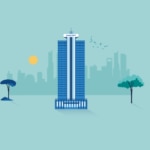 With this award, Garanti BBVA has once again shown its expertise in SME banking, providing its financial support to its customers as well as its long-standing non-financial consultancy services. "At Garanti BBVA, we care about the development of SMEs, which make up 99% of the companies in our country. We support our business at all scales with our extensive experience and expertise, innovative products and services, financing solutions and non-financial consultancy services," said Garanti BBVA Deputy General Manager Sibel Kaya.
The pandemic affected many sectors economically, but the bank stood by its SMEs clients with all its strength. At the same time, it contributed with solutions to make their business easier, ensure their sustainability, while opening the doors of new business opportunities. "We facilitate the digitization journey of SMEs with our products and services such as payment with e-Invoice, e-signature and QR and other payment systems solutions. We are very pleased that all these works are followed, noted and referenced on international platforms," Sibel Kaya said. "We will continue to work for our SMEs, the engine of the economy, and to be a pioneer in our sector with our innovative solutions," she added.
First Global Finance SME Banking award
Global Finance has included SME Banking for the first time in its banking award programs. For the publication, banking services for SMEs was a relevant segment due to the importance of products, services and support in the recovery of the country's economy.
This year's awards selected the best banks from eight regions and 66 countries around the world, during the one-year period between 2020 and 2021, when the effects of the pandemic were most intense.