Garanti BBVA presents its new digital process to apply for credit cards
Garanti BBVA is betting on technology and innovation to continue leading the payment system and credit card sector. Now customers can complete the credit card application and authorization process on Bonus' website and start enjoying all of the benefits immediately.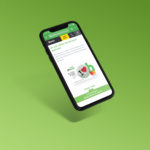 Customers who do not yet have a credit card with rewards can now apply for it using a fully online process on bonus.com.tr and obtain it in a matter of minutes. Once the application has been accepted, the customer must validate the contract using the Garanti BBVA app, without having to physically sign it. After this step they will receive a virtual card to start making electronic payments. They will also receive a physical card without having to sign any documentation.
Murat Çağrı Süzer, the Director of Payment Systems at Garanti BBVA, said: "At Garanti BBVA, we continue to offer our customers the utmost convenience. This new process marks a new milestone in innovation."  Customers can apply for their cards on Bonus' website - the most popular discount platform in Turkey.  "A simple digital confirmation is all that is needed to start enjoying the virtual card, without having to wait to receive the physical card," the director added.
"Our extensive experience in technology applied to payment systems has allowed us to optimize the infrastructure without losing sight of the strict regulations. We can say with pride that this app is a benchmark in the sector," he concluded.