25 organizations that will help you in your career as an entrepreneur in Colombia
It is essential for all entrepreneurs at some point to receive a leg up that can help them take their project to the next level, and enable a good idea to be developed into a real business, product or sustainable service. This is a selection of organizations, networks and associations that might be worth calling on for anyone looking to enter the major leagues of entrepreneurship and innovation in Colombia.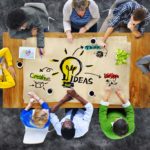 Cultura E
This program is promoted and financed by the Medellín City Hall with the aim of spreading the entrepreneurial culture and energizing the city's economy by creating innovative companies.  It features a variety of programs, including the Opportunities Bank, the Enterprise Fund, training programs, entrepreneurial integration projects, incubators and microcredit networks.
Website: http://www.culturaemedellin.gov.co/sites/CulturaE
Fondo Emprender
This is a seed capital fund created by the national government and assigned to the National Apprenticeship Service (SENA). Its aim is to fund entrepreneurial initiatives set up by apprentices or associations of apprentices, university students engaged in practical work experience, and professional associations.
Website: http://www.fondoemprender.com/SitePages/Home.aspx
Tecnoparques
This is an accelerator for the development of projects that have prototypes in the fields of Electronics and Telecommunications, Virtual Technologies, Engineering and Design and Biotechnology and Nanotechnology. Tecnoparques are part of a SENA program.
Website:  http://tecnoparque.sena.edu.co/Paginas/default.aspx
Bancoldex
Bancoldex is the business development and foreign trade bank. It will fund companies' credit needs, whether for the purposes of working capital, fixed investment, consolidation of liabilities or business financing. This financing is available for micro, small, medium and large companies in all economic sectors.
Website: http://bancoldex.com/
Antioquia Science and Technology Center  – CTA
This organization promotes, articulates, transfers and generates scientific and technological knowledge in order to contribute to the improvement of the organizational performance of innovative companies. The CTA was a key contributor to the creation of Parque Explora and the Ruta N Corporation, two benchmark centers in science, technology, innovation and entrepreneurship in the country.
Website: http://bancoldex.com/portal/default.aspx
RutaN
This is an organization set up by the Medellín City Hall for to foster the development of innovative businesses based on technology. For entrepreneurs it offers access to markets and technologies, contacts, the development of new businesses, physical spaces for working, funding and training, and advice on issues such as intellectual property.
Website: http://rutanmedellin.org/es
Tecnnova
Tecnnova manages knowledge in science, technology and innovation among universities, companies and the state. It acts as a tool for matching the offer of research and knowledge emerging from academia to the demands of the business sector.
Website: http://tecnnova.org/
Parquesoft
This is a cluster of digital art, science and information technology comprising over 200 companies in several cities in the country to share innovation, knowledge and experience in information technologies.
Website: http://parquesoft.com/
HubBog
HubBog is a meeting point for entrepreneurs that integrates acceleration, academia, teamwork and investment, with the aim of promoting innovative projects in information technologies. HubBog has helped promote over 100 Colombian enterprises, including successful apps like Tappsi.
Website: hubbog.com
Opinno
This is an international network dedicated to innovation, technology and entrepreneurship. It supports companies in issues like design, prototyping and validation of new products and business models. It is responsible for organizing the EmTech innovation conference, and for publishing the MIT Technology Review in Spanish.
Website: opinno.com/es
Apps.co
This is an initiative by the Colombian IT ministry to promote and enhance businesses based on the use of information and communication technologies. It offers support for ideas and mentoring, along with competitions to support the best enterprise. They have formed a community of over 2,500 entrepreneurs, and their website has a gallery with over one thousand apps created by this community.
Website: apps.com
Innpulsa
This is an institution run by the national government to support and promote business initiatives with fast, profitable and sustainable growth. The focus is on detecting and overcoming the obstacles that hinder the growth of companies, working to break down the psychological barriers that limit the creative process and incentivizing the development of companies in the regions.
Website: innpulsacolombia.com
Connect Bogotá
This is a network of 30 companies and organizations and 24 universities that work jointly to transform Bogota into a leading city for science, technology and innovation. Its work focuses on entrepreneurship, reinforcing skills, articulation and connection and technology transfer.
Website: connectbogota.org
Vallempresa365
This business network based in Santiago de Cali fosters innovation through tools, networks and access to the world of business. Vallempresa365 is an initiative run by Comfandi that provides spaces for knowledge, interaction and contacts, exchanges with leaders and creatives, and events including commercial and business fairs.
Website: vallempresa365.com
Innovation and Technology Development Center – Knowledge Country
The CIDT is a non-profit foundation dedicated to offering consulting services, advice, inventories, training, research, development and innovation, and implementing projects related to ICT and entrepreneurship.
Website: paisdelconocimiento.org
Gestando
This is an incubator for companies in the charitable sector. It is dedicated to supporting the creation and reinforcement of innovative and sustainable companies through the use of technology. It offers a business Support Model aimed at generating a culture of charitable entrepreneurship.
Website: http://www.gestando.coop/
Colombia digital
This organization comprises universities, companies and public institutions dedicated to promoting the use of ICTs in the country. It works to encourage the adoption and use of ICTs, boost the competitiveness of companies and public and private organizations, and support the formulation, implementation and appropriation of ICT policies.
Website: colombiadigital.net
CREAME
This is a company incubator comprising academic, business and government institutions and offering entrepreneurship programs and models for incorporating companies into the financial market and global business. CREAME operates in 80 municipalities in 19 departments in Colombia.
Website: creame.com.co
Endeavor
This is a global network that supports and connects entrepreneurs with the aim of ensuring their projects achieve maximum impact. The entrepreneurs have at their service a network of mentors and allies, in addition to education and networking events.
Website: endeavor.org.co
Corporación Ventures
This is an extensive network of allies that promotes the creation and development of business products in Colombia. Its mission is to attract capital and articulate the public, social and private sector to reinforce the business ecosystem. It runs programs for acceleration, funding, training and the Ventures Competition that awards prizes to the most innovative and sustainable projects.
Website: ventures.com.co
COLCIENCIAS
Colciencias is a state-run organization that promotes public policy to encourage science, technology and innovation in Colombia. Their annual grants program offers opportunities for training, research and innovation for entrepreneurs in the area of ICT.
Website: colciencias.gov.co
Mprende
Mprende is a digital platform that informs and connects leaders in innovation around the country. Every day this portal shares news articles, analysis, advice and good practices related with entrepreneurship.
Website: http://mprende.co/
Social Atom Ventures
This is a seed capital company that offers both investment and support services for entrepreneurs in the area of technology. Social Atom provides assistance with developing businesses, public relations, marketing, fundraising and product engineering.
Website: socialatomventures.com
Universidades
Practically all universities have a support center for entrepreneurship and innovation, and set up networks and associations between them to encourage research, the exchange of experiences, and connection with the business world.
Chambers of Commerce
The chambers of commerce in each city run support programs, competitions and grants designed to encourage entrepreneurship, business and the creation of companies in different sectors.
What other organizations supporting entrepreneurship and innovation do you know? Help us add to the list.