Carlos Torres Vila: "I see a banking industry that is very much present in people's daily lives"
BBVA strives to be more than a bank for its customers: it wants to help them make everyday decisions about their finances, BBVA CEO Carlos Torres Vila said today in Barcelona. Following the initial revolution caused by the emergence of technology in the financial sector – particularly cell phones – the future of banking will consist of a hybrid model that combines digital channels with personalized advice from remote financial advisors. This will make it possible to offer customers expert financial solutions they can trust. "I see a banking industry that is very much present in people's daily lives," Torres Vila said at a meeting organized by the ESADE business school.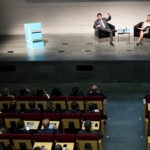 "Banks have the chance to go from being an infrastructure provider for money to helping customers making financial decisions," Carlos Torres Vila underscored at the conference, which was moderated by Maite Barreda, president of the ESADE Alumni association.
Today's banking relies on smartphones
For BBVA's CEO, technology is the main source of disruption in the financial sector – especially the emergence of smartphones, which are changing banks' distribution model.
Carlos Torres Vila noted that BBVA is a pioneer in understanding the impact of technology on business and in making a firm commitment to the digital transformation a decade ago.  As part of this evolution, "We have successfully developed a way of doing business that has evolved more quickly in recent years. BBVA now offers its customers the services they demand, such as opening an account with a selfie, or setting up direct debit for bills with a photo."
"We don't just use these digital channels to offer customer service, but also to sell," he added. Digital sales represent 22.2% of the group's total sales (according to figures from June 2017), compared to 16.8% in December 2016. In Spain, they represent 24.7% of all sales (as of June 2017).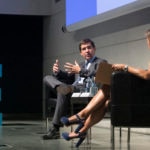 Data is the key
Carlos Torres Vila stressed that "Data is the key in this transformation." He believes it is essential to build a circle of trust with the customer. "We can come up with actionable recommendations by applying artificial intelligence to data, which creates an added value that will enhance our customers' trust, completing the circle," he explained. BBVA currently offers several data-based advisory services, such as BBVA Valora and Commerce 360.
"Data are the raw material we have to help customers make decisions," he said. He also emphasized the importance of the new regulation on data use, such as PSD2 (Payment Services Directive2) and the GPDR (General Data Protection Regulation) directive in Europe, or the draft fintech bill in Mexico.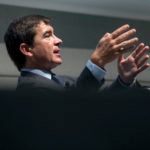 Banking of the future, a hybrid model
In his long-term vision of the sector, BBVA's CEO is betting on a hybrid model – a combination of technology and personalized advice. Institutions will have to adapt to the changes in customer habits. "The role of the office will continue to be very important. At BBVA, we have already transformed our network, fomenting remote management."
"Most of our customers are hybrids: they use the digital channel but also go to the bank office. And the remote channels we have opened for customers to engage with the bank work very well," he explained. More than 700,000 BBVA customers use this channel, "which represents an enormous transformation." He also recalled that penetration rates for customers that use digital channels consistently are at 40%, with some countries over 50%. Penetration rates are also very high for smartphones – over 35% in Spain – and mobile customers have grown more than 40% over the past 12 months.
In the future, Carlos Torres Vila expects financial institutions to also be aggregators of other companies' products in order to offer customers the best possible service. In his opinion, what will make the difference will be the ability to advise customers regarding their financial planning, for which "we will have better and better tools".  In this regard, he feels that "just as cars will be self-driving, we could also have a 'self-driving bank'."