BBVA gives Sheetgo the award as the most scalable startup of the South Summit
BBVA has given Sheetgo the award as the startup with the most scalable business during the closing of Spain's biggest startup conference in Madrid.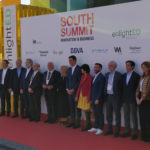 Sheetgo is an automation enhancement for spreadsheets - enabling easier sharing, updating and production - that allows to improve workflows. The Spanish-Brazilian company has been recognized for its potential to develop its large-scale proposal to fit companies of any size and in different countries.
Derek White, Global Head of Customer Solutions at BBVA, represented the bank during the event and presented the award during the closing ceremony. He shared the stage with Spanish Prime Minister Pedro Sánchez.
The event was also attended by Manuela Carmena, Mayor of Madrid; Carlos Espinosa, High Commissioner for the Spain Brand; Francisco Polo, Secretary of State for Digital Advancement; and Maria Benjumea, President of Spain Startup.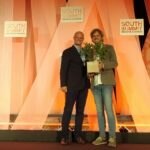 Derek White, Global Head of Customer Solutions at BBVA, with Yannick Rault, cofunder of Sheetgo
Besides BBVA, representatives of other leading Spanish companies took to the stage during the event, including Carlos Ventura - General Manager, Banco Sabadell; Borja Prado, Chairman, Endesa; Santiago Íñiguez, President, IE Business School; José María Álvarez-Pallete, Chairman & CEO, Telefónica; and Fuencisla Clemares, Managing Director of Google Spain and Portugal
A special award was also handed out to José Lladó, Chairman of the Board of Técnicas Reunidas, for spearheading the push of digital technology and entrepreneurship into Spain.
The closing ceremony marked the end of a week of start-up connections in the Spanish Capital, with tens of thousands of attendees and dozens of speakers and presentations.
This included a discussion around how banks can take on the challenge of the Google's, Amazons, Facebooks and Apple's of the world, by Derek White, as well as insights into what makes good digital business in 2018.
Opening the ceremony, BBVA CEO Carlos Torres Vila, described how entrepreneurship was the lifeblood for society and fundamental to the future. He explained how for him, what was critical was how startups and innovators ask the questions others don't, and find the solutions to these questions too. That, he outlined, was one of the reasons why startups are so important, alongside the wealth and jobs they create. BBVA Executive Chairman Francisco González said that the success of a company's transformation is directly related to employee talent.
Commenting on the proceedings, Derek White said: "It's has been an honour for BBVA to be involved in this week-long celebration of innovation in Spain.
"The startup sector here is thriving, and for good reason, because there is talent in abundance in this country and a desire to build a better future for everyone.
"For BBVA, taking on the lead sponsor role as ecosystem partner is about showing our commitment to forging partnerships with the startup community, and working together to bring amazing to the hands of all our customers."