BBVA Compass Mobile Banking App version 5.4 with all new functionality search, direct deposit form and refreshed app icon released
Using the full functionality of the bank in your pocket is easier at BBVA Compass with the release of version 5.4 of its Mobile Banking App.
In the latest release, the bank added a search engine inside the app so users can fully capitalize on the many features that have won it multiple awards. With the new search, users simply start typing what they would like to do in the search bar, and the app automatically displays a list of applicable functionality from which the user can select. When the client taps on one of the results in the list, the app automatically navigates the client to the exact spot in the app where that functionality is or information is located.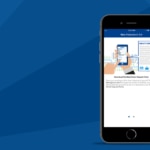 "We've won quite a few awards for the many ways customers can use our app," said BBVA Compass Head of Online and Mobile Banking Alex Carriles. "With so many great features, it's imperative that customers have an easy way to find and go to each of them. We've accomplished that with our new functionality search – a search we think is unlike any other on the market."
Carriles: With so many great features, it's imperative that customers have an easy way to find and go to each of them.
Also included in version 5.4 of the Mobile Banking App is a refreshed app icon and direct deposit form. The form prefills customer's banking information, including routing and account numbers, to make it easier for customers to auto-deposit paychecks. The customer can also send, print, or save the document as a PDF, making the process of setting up direct deposits quicker and easier.
"We keep striving to make the customer's experience with mobile banking easier and more intuitive," Carriles said. "It's important to us that we continue meeting customers' needs in new and unique ways, anticipating what they want and need next, and helping them to bank when, how and where they want."
The BBVA Compass Mobile App was named Best Mobile App by Money® magazine in 2015, Javelin Strategy & Research's Mobile Banking Leader in Functionality Award three times in as many years and just weeks ago, Javelin named it a leader for its ease of use in its 2017 Mobile Banking Scorecard.
For more information on the BBVA Compass Mobile Banking App, click here.