Since its inception in 2009, the BBVA Compass Mobile Banking app has been nationally recognized for its functionality and user experience, adding a series of awards to its wall of digital achievements and achieving milestones that have raised the mobile banking standard.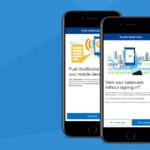 The award-winning BBVA Compass Mobile Banking app has received multiple accolades for its usability and digital features, and over the course of its nearly eight-year lifespan, the app's designs have been centered around the user experience to expand its U.S. footprint.
All about the user
"The growth and continuous success of the bank's mobile app is a result of embracing end-user feedback," stated BBVA Compass Director of Mobile and Online Banking Alex Carriles. "Our team is able to innovate and discover areas of improvements, because we are constantly creating opportunities to understand when, where, how and why people engage with the mobile banking app.
Following up on his colleague's statement, BBVA Compass UX and UI Design Director Tom Briscoe emphasized that the development of the mobile banking app evolves from a triangle where business, technology and design sides are joined and angled around meeting the end-user's banking needs.
From the concept to launch, we must always keep top of mind who we are designing for and why"
"So how do we do it? Collaboration is key. Together, we focus on the user experience with each mobile app update," said Briscoe. "From the concept to launch, we must always keep top of mind who we are designing for and why."
At BBVA Compass UX Lab, the bank's in-house mobile research and innovation hub, Briscoe, Carriles and the mobile development team have engaged with end-users to test designs and features and bring the mobile banking app to life with major updates such as real-time banking alerts, Payments & Transfers, Bill Pay and Mobile Deposit.
This is BBVA Compass UX Lab, where the mobile development team does the vital work that is helping the bank's mobile app notch win after win. Go inside the lab with BBVA Compass UX and UI Design Director Tom Briscoe. | By Billy Smith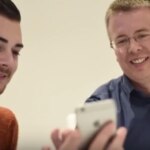 To twitter
The @BBVACompass #MobileBanking app brings #accessibility to routine services, such as check deposits, right to clients' fingertips.
The app's journey and services
Over the course of its timeline, the BBVA Compass Mobile Banking app has received a suite of updates focused on enhancing the user experience.
The app became bilingual in 2012, offering flexibility for the bank's growing base of Spanish-speaking clients. In 2013, the bank added Mobile Deposit and picture bill pay capabilities to the app and introduced PopMoney, which opened the door for clients to send money by text or email to anyone in the U.S. As part of its 2015 revamp, the mobile design team updated the app to greet clients by first name upon log-in coupled with a user command bar feature which gives them quick access to the services they most frequently use. That same year, the team integrated Apple Touch ID to give clients a quicker and more secure log-in experience.
(Left) Fingerprint authentication with Touch ID adds convenient access to mobile accounts with a layer of security. (Right) Mobile Deposit gives customers the convenience of making deposits on-the-go with a snapshot of their endorsed check from their mobile device.
"There's a rising demand for convenient banking, and the bank's mobile app is the digital supply to that demand," said Carriles. "Our app puts the most commonly used banking services right into the pocket of our clients."
To Carriles' point, the U.S. Federal Reserve noted the rise of mobile banking in its fifth and latest report, showing that 43% of the surveyed consumers choose to bank on-the-go, which is a 21% increase since 2011. Among those consumers who bank digitally, 94% of them use mobile banking for checking account balances, 58% for account transfers, 56% for receiving account alerts and 48% for remote deposit capture, which BBVA Compass supports with its industry-leading Mobile Deposit feature.
Checking-in with mobile deposit
According to the 2016 mobile deposit benchmark report by independent fintech research firm Futurion, BBVA Compass ranked second overall in the mobile deposit customer experience out of the 15 assessed financial institutions, leading the chart in the following categories: efficiency of use, consistency and standards, auto capture and flow, item processing and real-time deposit status. The report also indicates that the bank had the fastest mobile deposit adoption rate in the three years leading up to 2016. Currently, over 18% of the bank's check deposits are done through the mobile banking app.
"Since deposits are by far the most common in-branch transaction, three years ago we integrated Mobile Deposit into our in-branch customer experience," said Cody Sparks, BBVA Compass director of multi-channel sales and promotion. "Our tellers and bankers take every opportunity to demonstrate how easy it is to deposit a check remotely. This has helped improve our client experience and drive engagement with our mobile app."
On top of being recognized by Futurion, the mobile banking app was voted by Money magazine as best mobile banking app for 2015 and has been recognized three times by Javelin Strategy & Research with its Mobile Banking Leader for Functionality award.
---
For more information on mobile banking, click here.
Mobile Deposit® is a registered trademark of Mitek Systems, Inc.
Apple® and Touch ID® are trademarks of Apple Inc., registered in the U.S. and other countries.