BBVA wants to turn its employees into 'digital ninjas'
BBVA's 'Ninja' initiative is a pioneering program designed to allow any employee to acquire technological knowledge and skills thanks to the use of gamification techniques and training offered by the best tech companies and educational platforms in the market. Following its success in the units more linked to the Group's technological transformation –where nearly 9,000 employees are currenlty enrolled–, it will expand to new areas of the bank in 2020.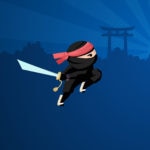 Since it was created in 2016, this program to foster and give visibility to BBVA's tech talent has accumulated over one million hours of training. Nearly 9,000 employees in seven countries (Spain, Mexico, Argentina, Peru, Colombia, the U.S. and Uruguay) have participated, and Turkey will join the list in 2020.
The program was initially designed for BBVA's Engineering area, which has a long track record, first in Spain, and subsequently in other countries. Following the initiative's success, this year Ninja is expanding to other areas of the bank, such as Client Solutions, which includes all the divisions working on product development, where the program has already begun to be introduced. For example, through Ninja, the employees in areas like marketing, design and digital sales have access to educational content on introduction to programming, advanced analytics and machine learning.
Throughout 2020, the goal is to continue expanding the scope of Ninja to the main central areas of the bank and continue developing the digital talent of all employees.
"The need to acquire knowledge and technical skills at the speed at which the organization needs them is not exclusive to the technology areas. Ninja was created to detect, promote and give visibility to BBVA's technology talent, and now we want it to be a reality for the entire organization," explains Ricardo Forcano, the Global Head of Engineering and Organization at BBVA. "This project is a key catalyst in our transformation as a company," he stressed.
Training and cultural change
Ninja has two main goals: technology training for employees and cultural change in the organization. On the one hand, the program allows employees to acquire knowledge and digital skills through the best educational platforms (such as EdX and Coursera), and also gives them access to courses and degrees that are more recognized in the market. BBVA is partnering with leading tech companies like Google, Amazon, IBM and Red Hat to give the ninjas access to talks, courses, workshops and hackathons. There they learn about the latest developments in technology, which helps to keep their knowledge constantly up to date.
On the other hand, the program also fosters a culture of learning and continuous self-development through gamification techniques that help the users be proactive in finding new topics of interest that they need to evolve in their areas of work, and continue to learn new disciplines. The program also foments the visibility of the bank's internal talent, as it especially values that employees share what they have learned with others through talks, workshops and publications. "This philosophy fits perfectly with the agile methodologies we use at the bank," adds David Hernantes, the global head of the initiative at BBVA.
"The Ninja project is pioneering in the corporate world because it breaks away from the traditional way to train employees"
So far, BBVA has participated in over 1,000 chats, 740 workshops and 24 hackathons around the world as part of the program. It is also responsible for the publication of 420 scientific articles and more than 1,300 contributions to the open source community. In total, Ninja has facilitated 19,000 online training classes or Massive Online Open Courses (MooCs) and 3,500 strategic certifications.
"The Ninja project is pioneering in the corporate world because it breaks away from the traditional way to train employees. They are the ones who decide and choose their professional evolution based on their needs. They are in charge of their own development by participating in different activities with our strategic technological partners," explains Hernantes.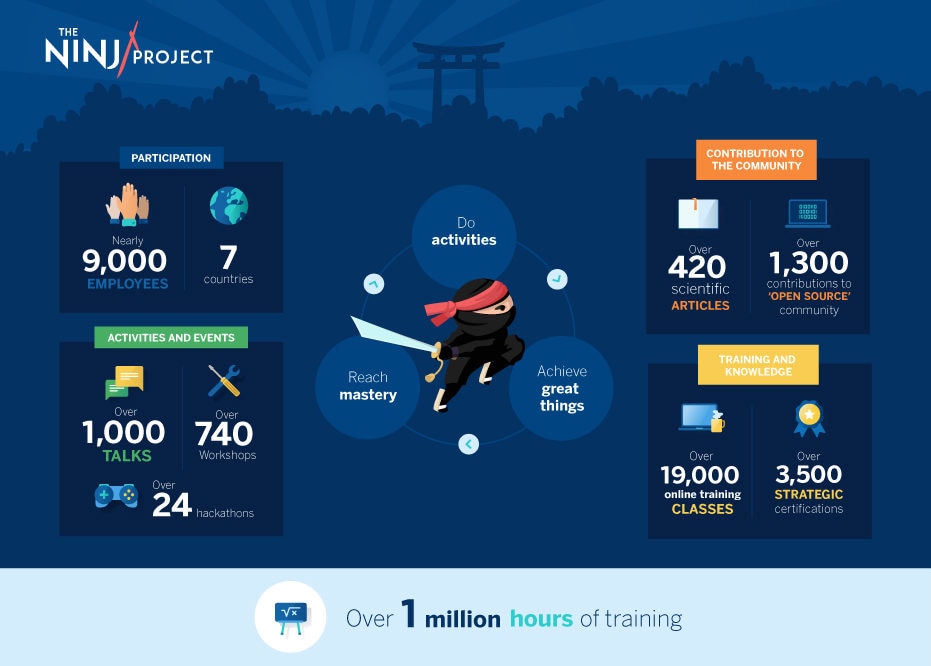 How does it work?
The Ninja model is based on the principles of gamification. Every employee who begins the Ninja journey chooses their own training through the different activities that are available, such as participating in chats, workshops and hackathons, doing online courses, obtaining certifications or publishing scientific articles.
As they do these activities, the employees receive Ninja points in different skill areas (communication, learning, team work, experience and community) in a fun way, as a reward for their efforts. Accumulating more points allows them to go on to the next level, each of which is represented by different colors, starting with white -- where all ninjas begin -- up to black, a level only a few reach that represents complete "digital mastery".
Obtaining a black belt is a highly demanding challenge that so far, only ten BBVA employees have achieved. It requires unwavering training discipline, great dedication and highly advanced digital knowledge in various areas.
"The Ninja project is a global, homogeneous system in which any employee, regardless of their country of origin, business unit or role in the organization, has the same chance to prove their worth, allowing the bank to have a transparent system to identify digital talent," explains Hernantes.
Furthermore, in order to achieve "ninja mastery", employees must demonstrate interest and active participation, which facilitates a real commitments from participants to their development.
The program is designed to foster learning in areas of a technological and digital nature, including several knowledge domains:
New trends in technology (artificial intelligence, blockchain, the Internet of Things, etc.)
Engineering and architecture (software development, new work frameworks)
User experience (design and interaction)
Cybersecurity (fraud and risks)
Data engineering (data science, machine learning, big data)
Service building techniques (work methodologies like agile or design thinking)
Tools and products (cloud platforms, hardware)
The platform does not have a set curriculum of content. Instead, it facilitates access to courses and certifications in these domains in the market. "Ninja connects the best content and training activities on the market with the organization's internal talent," concludes Hernantes.