Garanti BBVA customers can now view account activity from other banks on the Garanti BBVA mobile app
Garanti BBVA customers are now able to use the Garanti BBVA mobile app and Internet Banking to access information from their accounts at other banks. The regulation of open banking has made this a possibility. Customers can view their account activity and balances without having to log into each bank separately, and can even transfer money between accounts.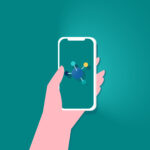 In addition, merchants, SMEs and corporate clients of the bank will be able to view transactions on POS terminals and those at other banks, as well as the transfer amounts, on the Garanti BBVA mobile app and Internet Banking. This service will save users time, making it easier to manage cash flows and keep track of their finances - all on one screen.
Garanti BBVA's Işıl Akdemir Evlioğlu stressed the significance of the digital transformation and changes in open banking regulation. "Open banking democratizes data. Customers who prefer to have all of their financial data under one roof will have the convenience of viewing and managing their accounts in different institutions," she explained. Previously, customers were forced to log into each bank's app separately to view account activity, balances and transfer money. "Today, we have the opportunity to access all account details on a single app," she added. As a result, both individual customers and corporate clients have a better experience.
The executive emphasized that the bank will continue to work to provide open banking services to both corporate clients and individual customers. "We expect this new era, which started with the ability to view accounts in other institutions and transfer money from these accounts, to expand to include new financial products and transactions in the coming years," she concluded.