Digital and sustainability are reshaping the face of banking in Turkey
In an interview with Anadolu Agency, Garanti BBVA's Head of Customer Solutions and Digital Banking Işıl Akdemir Evlioğlu analyzed the latest developments in digitization and mobile banking, as well as the bank's investments in this field, following 15 years of mobile banking.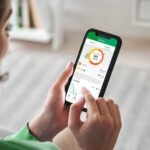 In the past, bank branches were seen as the place where customers kept their money safe, and any growth in the sector came from physical expansion through branches. Beyond being an alternative channel, the pandemic has transformed digital banking into the main channel where many transactions can be easily performed.
Banking is also one of the most powerful digital sectors in the world today. Thanks to technology and data, mobile banking has evolved to much more than a platform for products. "At Garanti BBVA, we are the bank that took the first steps toward the digitization of banking in Turkey - a pioneer in the sector with 25 years of experience in the field. We offered our mobile banking services for the first time in 2007 on wap.garanti.com.tr, and launched our mobile app on IOS and Android in 2012," said Işıl Akdemir Evlioğlu in an interview with Turkish news agency Anadolu.
The number of our customers who use mobile banking has been on the rise since day one, and increased drastically over the past two years due to the impact of the Covid-19 pandemic. The number of customers using Garantis BBVA´s mobile banking service climbed to seven million in 13 years. Remarkably, this number grew by more than half in the past two years alone. The bank  currently has a total of 12.6 million mobile banking customers - an important indicator of how quickly it has progressed in the past 15 years.
Işıl Akdemir Evlioğlu explained that during the pandemic, the bank focused on developing new and innovative products and services, and accelerated the transition to digital banking by addressing issues that needed to be resolved at branches, within the regulations. "It was a period of increased digital awareness. Many discovered features they had never tried before that made their lives easier during this period, " she highlighted.
Today, the bank has more than 500 features on mobile and more than 86 percent of its product sales take place on digital channels. The number of mobile and online transactions has risen by more than 100 percent from prior to the pandemic, and this increase has remained.
Garanti BBVA and sustainability
Likewise, sustainability remains at the heart of Garanti BBVA´s business and is part of its contribution to the fight against climate change. In order to promote sustainable development and the transition to a low carbon economy in Turkey, the bank continues its work to minimize the environmental impact of its own activities and shares these practices with society and customers. In fact the bank currently has more than 50 products and services in the sustainable finance field.
"We think it is very important to raise awareness among all of us as individuals, and as institutions. Garanti BBVA recently launched a feature on its mobile app to allow customers to see their carbon footprints. Becoming a mobile customer and choosing paperless statements are two examples to contribute to the fight against the climate crisis," she added.
The bank is aware that they are at the very beginning of this journey, so it will continue its work to build more sustainable habits and solutions in order to minimize the environmental impact.