We introduce BBVA Trader, the new markets platform for clients and non-clients
BBVA once again anticipates the needs of clients and non-clients with the launch of BBVA Trader, a platform 100% designed and devoted to trading. On this website, the users most active in monitoring and market operations can find all the services and contents they are looking for in a trading platform.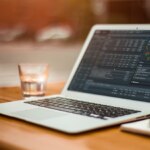 As part of its commitment to digitizing, BBVA makes available to clients and non-clients alike a platform specializing in the purchase-sale of shares, warrants and ETFs intended for users with a trader and heavy-trader profile. In a second stage the platform will include trading with futures and options.
What are users demanding
Users with an investor profile know there are opportunities in the markets and want to know where to find them. The key is information: it must be objective, for all markets and in real time. And also tools: it should be a platform that is easy to use, accessible from the computer, tablet and smartphone, so the operations can be tracked on an ongoing basis. Customization, training and, of course, price competitiveness are part of their demands. BBVA Trader was designed to address all those needs.
BBVA Trader, the optimal tool for your market operations
The new platform is a responsive-design website based on HTML5 technology that offers the most advanced private investors in markets operations, whether BBVA clients or not, a simple and agile operation, accessible from their computer or mobile devices, in real time, and at no trading cost, unlike other platforms or specialized services.
Signing up for BBVA Trader costs nothing and has no operations requirements. Users have available a number of additional services they can sign up for according to their needs, which can be free of cost if a minimum number of operations are performed. These services include:
Services related to quotes, depth of market, prices, real-time charts, etc;
Intraday leveraged operations service;
The advanced BBVA Trader Pro platform, fully configurable by the user and with ad hoc contents.
So users can make the best investment decisions, we make available full information on market analysis, both from BBVA and from third parties. The new platform includes expert reports on fundamental, technical and trend analysis. Other features include tools such as the warrant calculator, the advanced ETF search engine, advanced orders and full details of each instrument.
All these services are supplemented by a permanent and free offering of online (videos, online pills and webinars) and face-to-face training.
This new platform is part of BBVA's commitment to digitizing and of the global strategy designed to strengthen the bbva.es online channel as the single channel with a differential service, where clients can also access BBVA Trader.
The financial industry has witnessed the emergence of a new scenario where new digital competitors have entered the sector and smartphones have boomed as the channel for accessing banking services. In this context, BBVA's digital transformation has become the Group's strategic priority. Faced with this new paradigm, BBVA has set out to lead the sector's transformation and build the best bank in the digital era.
If you want to find out more about the new platform, visit www.bbvatrader.com.