Mental clones: Approaching virtual immortality?
Different companies have decided to upload personalities on the internet. The so-called transhumanism is gaining strength.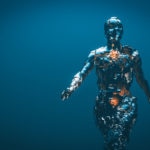 Eternity is very attractive to the mind of a human being. Existentialist questions surrounding the immovable certainty of the finitude of life are endless. And the next and inevitable question (much more relevant in recent times), if it's possible to survive beyond the biological cycle in this technological development. This philosophy, known as transhumanism, has various deep-rooted examples in the establishment of the American corporate technological culture.
Google vs. death
Without looking any further, in 2013 Google announced the birth of Calico, an initiative focused on general health and the deceleration of aging, in particular on extending life expectancy. In August 2015, Calico Labs, which began as a subsidiary division of Google, became part of Alphabet, the matrix that binds the IT giant, meaning that it's no longer an initiative under the corporate umbrella of the search engine, but rather another company belonging to the conglomerate.
The project, which is in no way related to Google Health, focuses its research on human longevity. However, in the words of Larry Page, the founder of Google and currently the CEO of Alphabet, up to two decades will be needed to fulfill his goals, as a result of the torturous journey that it normally takes to turn an idea into a reality, especially in fields such as health.
LifeNaut, or the story of Martine Rothblatt
But every so often, not that much time is needed to change things, even though it is step by step. Martine Rothblatt, who was the highest paid CEO in the USA in 2014, has a personal experience that proves the opposite. Since her birth as Martin Rothblatt, who would end up becoming a man who would revolutionize satellite communications in the United States of America - founder of Sirius Satellite Radio-, Rothblatt has changed a lot of things. The most unusual of all was his sex change.
After revolutionizing the satellite communications sector, she became a pharmaceutical, where she managed to enter (almost as an intruder) to check the patent of a drug being tested on animals to fight the chronic lung disease that her daughter suffered from, who had been given two years to live. She didn't just manage to save her; that drug that she purchased from a pharmaceutical company for $25,000 brings in $1.5 billion in profit every year.
Her daughter, who is now 30, works at the company that her parent founded to save her, which focuses its attention on progresses in xenotransplantation, which ensure the genetic compatibility of transplants from pigs to humans.
And that's not all. Rothblatt's personal experience resulted in her publishing important theses about queer and gender theories, which help to understand how she has stayed married to the same woman for more than 30 years. She says that her dream is to spend eternity by her side, which is why, with her initiative Terasem, and in particular her project LifeNaut, she works on making mind clones a not so distant reality.
Bina48 is the robot that Rothblatt has programmed to think, act and gesticulate like his wife, Rothblatt. She has already been interviewed for a Pulitzer prize and with the National Geographic magazine, but it still needs improvement.
Studies from Stanford university affirm that mind clones are feasible, even via profiles on social networks, and in fact they give a special emphasis that computers are better judges of personality than people, with minds soon to be a thing that can be scanned.
Other examples
Even though right now they can only aspire to translate minds into lines of code, this hasn't stopped the emergence of more and more companies working in the field of mind cloning.
The London-based Lean Mean Fighting Machine recently published software that analyzes a person's Twitter feed and is able to imitate them after their death, but there's more. MyLifeBits by Gordon Bell, under the umbrella of Microsoft Research, or eterni.me, already makes promises of avatars of your loved ones or even of yourself, to "interact, inform or advise your loved ones, even after your death".