BBVA Research places Spain at 30th in the digitization ranking of 100 countries, an intermediate position behind nations such as Germany or France, but ahead of other southern European countries like Italy or Portugal. However, Spain "is much better prepared for the Fourth Industrial Revolution than it was for the previous ones," says Rafael Doménech, head of Macroeconomic Analysis at BBVA Research.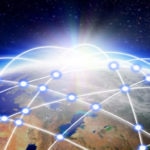 Digitization is growing faster than economic activity and will continue to do so in the future. However, in order to take advantage of the opportunities that this process offers Spanish companies, it is necessary to overcome a series of challenges. Among these are improving infrastructure, guaranteeing cyber security and removing the barriers to electronic commerce. That's the view of Rafael Doménech, who presented the study entitled, "The Impact of Digitization on Spanish Companies."
Domenech took part in the "Big Day, Digital Data" event held at BBVA headquarters, along with Cristina de Parias, head of BBVA Spain; José Luis Bonet, president of the Spanish Chamber of Commerce; and Elena Alfaro, head of BBVA Data & Open Innovation. BBVA also hosted the meeting of the Executive Committee and the extraordinary plenary session of the Spanish Chamber of Commerce.
The Spanish Chamber of Commerce made an initial evaluation of the Plan to Promote the Digitization of Spanish SMEs, a program that the chamber launched with BBVA at the start of this year and which will last until 2018. Until now, "Big Day, Digital Data" events had been held in Bilbao, Seville, La Coruña and Las Palmas. The project will explain the impact of the digitization of Spanish companies to more than 1,500 business people.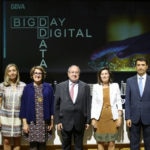 Head of Business and Corporate Banking Spain, Fernando Alonso; Global Director of Institutional Relations at BBVA, Eva Piera; General Manager of Spanish Chamber of Commerce, Inmaculada Riera; Chairman of Spanish Chamber of Commerce, José Luis Bonet;  Head of BBVA Spain, Cristina de Parias; BBVA Research Chief Economist, Rafael Doménech; and Head of BBVA Data & Open Innovation, Elena Alfaro.
Cristina de Parias, head of BBVA Spain, underscored the pressing need for SMEs and other companies to make the digital leap, which will be a key factor in their future. "BBVA has a commitment to developing the fabric of Spanish business and to supporting  companies, so that they become more competitive and international. Digitization is an indispensable tool in an increasingly complex world," she said.
In this regard, the president of the Spanish Chamber, José Luis Bonet, insisted that "companies should realize that digitization and innovation are not an option, but rather, an essential condition to assure their survival and progress. For that reason, there has to be a change in the business mentality,  particularly among SMEs, in order for them to understand the new challenges they face."
Digital Response
For Rafael Doménech, head of Macroeconomic Analysis at BBVA Research, "digitization is one of the most powerful tools," for dealing with Spain´s macroeconomic problems: high unemployment rates, an aging population and low productivity. "Digitization improves the offer of products and business areas, increases demand – by prompting changes in the consumer – and improves competitivity," he said. Additionally, it provides "an opportunity for companies to open new markets and to export."
According to the BBVA expert, there is a wide margin for improvement by Spanish businesses. In this regard, the numbers point to electronic commerce as one of the great opportunities for the digitization of SME's in Spain, where 79% of the population uses the Internet and 67% use social networks. Government agencies also have a leading role to play as catalysts of the country's digital transformation. "The level of digitization of public services in Spain is slightly higher than the European average, but still far from the most advanced countries," Doménech said.
Data for the SMEs
One of the factors of digitization that could be decisive for the competitivity of companies, is data. Whenever big data, machine learning or the science of data in general are discussed, they are assumed to be specialties reserved for large corporations, when in fact they can be used by any company.
"At BBVA we have been working for years to be a company that makes decisions based on data, but also one that develops products which, thanks to data analytics, provide value for our customers and help them to make financial decisions," said Elena Alfaro,  head of Data & Open Innovation. The expert recalled that BBVA has high-value data that describes movements, tastes, preferences or spending levels – something that large digital companies still don't possess, and which provides a competitive advantage regarding the richness of the data that is provided.
BBVA has launched products such as 'Mi día a día' (My day to day), which automatically categorizes the expenditure in a current account (soon it will incorporate a predictive calendar with a spending forecast for the next two months); or the Commerce360 tool, which allows small businesses to know their activity and to compare it with the competition's business.  Both are examples of how data science will be essential to the management, competitivity and the growth of companies in this new era marked by digitization.