Ricardo Martín Manjón (BBVA): "Success will mean data becomes fully integrated into the business at all levels"
Ricardo Martin Manjón was named as BBVA Global Head of Data in April this year, having previously been the bank's Global Head of Data Strategy and Data Science Innovation. His role sees him lead the bank's development, deployment and future thinking around how BBVA drives forward its use of data throughout the Group, so it can achieve its strategic objective of bringing the age of opportunity to everyone.
In this interview Martin Manjón outlines why BBVA has a strategic focus on data, how that manifests itself across the entire group, what it will mean for customers in the future and the critical importance scale plays in data management.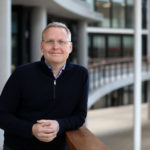 Question: Data science is a growing discipline across a lot of businesses - when it comes to BBVA´s approach, what are you focusing on and why?
Answer: BBVA´s ambition is huge - to bring the age of opportunity to everyone - and the transformational capabilities of the data world are going to be critical to delivering that.
But to do that we need to combine two different approaches - one a top down and one a bottom up. The bottom up is about creating the capabilities to really be able to make best use of data at scale - and here there are three main areas we are developing. Firstly, the talent and experience we have within the business, and we have created a programme to increase the data science capabilities we have across the group - amplifying the technical skills of our colleagues. Secondly, how we gather data and the sources we can use - and constantly looking at the governance model and making it world class. And thirdly a focus on the technology needed to analyse this raw material and make sense of it.
And here we are in increasingly good shape - we have some underlying technologies that I can't discuss in too much detail here, but certainly our integration platform is the key element. This platform, and our other systems, allow us to process data between different systems at a global level far far quicker and from wider sources than we previously could, allowing us to understand the data environment more broadly and extract the value from the data at a bigger scale.
Then there is the top down approach - which is more connected to identifying the key transformational use cases we need in the bank to deliver the strategy. So for example driving insights into the bank around which personalised products and services can be built. The AI Factory we launched a few weeks ago is one element of how that will be achieved. It's about the different units within BBVA working together to attack the big issues. The factory uses the agile methodology as an approach to bring together 150 people from different backgrounds - from data to engineering to product development - to shorten its time to market for new services and deliver a consistent experience globally.
Q: AI is a hot buzzword at the moment, it is being touted as the solution to so many things. But what for you does it offer in terms of solutions or opportunities?
A: We see so much talk about how AI will be able to fix all the world's problems, but for BBVA we take a very practical approach to how we can use this technology and there are really four areas we are looking at.
Firstly, process automation - the back office processes that can be accomplished faster, more efficiently and quicker when machine learning powered by data and smarter algorithms are doing it.
Secondly, its personalization - in a broad sense - so personalisation of the price, the product, the experience, the advice - you know, how we bring an individual banking experience to each customer or client.
Third one is how we can use AI to semi-automate what an advisor is doing today with a customer. And I say semi-automate because it's important that isn't interpreted as replacing colleagues, but rather to compliment them - to add to their experience, sorting data, products, answers, offering solutions - but at the instruction of the colleague. I think one of the myths of AI is that it will replace humans, but that in my view is not going to happen in the immediate future - it's a tool to augment.
And then the fourth one is how we can use AI to better protect the bank against negative events, in areas like fraud prevention, cybersecurity, risk analysis. Areas where we are trying to identify problems, predict or identify patterns and anticipate issues.
So that's really the AI value streams of the business - not science fiction but bedded in achievable reality - even if some of it is like rocket science!
"We could do the same for data as we do for money - keep people ́s data secure, help them understand its value, find them ways to monetise it"
Q: The other hot topic that pops up a lot in the news in Blockchain - which obviously has data at its heart. How and where do you see a role for Blockchain in consumer banking?
A: I think blockchain will make an impact on consumer banking - the real question is where and what that will mean for the way the industry operates.
For example, take personal data. At the moment most of the monetization of this data is happening in the digital advertising world - the issue of how big tech uses your data. Already we are seeing online tools that allow you to limit the information gathered, and companies that try to help you sell your data so you reap some of the financial rewards.
But what Blockchain could allow is for you to completely own your own data, on your terms - you become your own data asset manager - you put your data out to the market when you want, and blockchain can enable that. Now, for banks, there could be a great opportunity here too, and it relates back to BBVA´s goal of becoming a trusted advisor.
Banks have historically protected people ́s assets and helped them invest it. We could do the same for data as we do for money - keep people ́s data secure, help them understand its value, find them ways to monetise it - add value through our expertise and the security under which our systems have to operate. It's definitely an area we are working on.
The other area of course where Blockchain can help, and we are beginning to see it now, is around how data is shared. For example the approaches around zero-knowledge data sharing - where you share a 'proof' of the sensitive data, without sharing the sensitive data itself. This could dramatically improve things like fraud prevention, and minimise risk for companies as they would no longer have to store this sensitive information.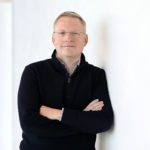 Ricardo Martín Manjón, BBVA Global Head of Data
Q: Given all of this, what do you think is the future of the Head of Data role, and for data science?
A: I think really success will be the Head of Data role disappearing - which might sound strange, but what I mean is data is everywhere in a business like banking. It is across all the areas we work in. So success will mean data becomes fully integrated into the business at all levels, and when this happens, you might not need specialist data units, because everyone will be using data science in their day to day work.
PBut for the moment, there is loads to be done. The first layer in digital transformation was creating the capabilities for customers to be able to do everything themselves, if they want, however suits them - mobile being a key driver.
The second layer though it actually way more complex. Building the engines, the brains behind these increasingly complex interactions of data, digital and human experience is tough and we are still far from completing that. To give it a metaphor, it's like we have found some gold, but we are yet to find the area to gold mine - and before we do any of that, we need to get permission from the landowner - the customer - because what we need to do, as opposed to what big tech has done - is to ensure that first and foremost customers benefit from the gold on their land, as well as us taking a share too. Just like with money. If we get that right, then it will build the trust we need to better serve them as we shift to an increasing advisory model.
Ultimately, returning to what I said at the beginning, for me 75% of my time is focused on how we scale what we do, and 25% on the issue of what we need to do. To be a truly global digital player, this issue of scale is critical - data and analytics need to be globally integrated across everything we do.
So for me, the answer to the question what's the key to great data science, its firstly ensure everything you do is scalable, then know where to focus and why, and then ensure you have the right people and talent and the right tools like AI to deliver. That's what we are aiming for.