Francisco González weighs in on the challenges of the financial sector to compete with big tech firms in an article published on the 'Singapore Summit' website. BBVA Group Executive Chairman participated this weekend in the event - which analyzes Asia's role as the driver of world growth – and in the annual meeting of the International Advisory Panel (IAP) of the Monetary Authority of Singapore (MAS).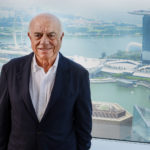 In his article, Francisco González says that the adoption of exponential technologies is creating a new arena for competition, where "traditional players are increasingly challenged by startups and by enormous platform companies, the Internet Giants." China is a good example of this: Tencent and Ant Financial are rapidly absorbing parts of the banking business, primarily payments.  Big Tech's threat to banking can be seen on a daily basis in many distinct situations all over the world.
Up until now, says BBVA's Group Executive Chairman, in the western world, regulation had contributed to keep the Internet giants at bay.  But this protection will not last much longer, in his opinion. For example, in Europe, the new payments regulation, PSD2, "is changing the status quo by establishing data sharing rules between banks and third parties."
BBVA has been preparing for this new scenario over the past 10 years.  The bank is delivering the best solutions to its customers, thanks to the effective use of data and artificial intelligence. "Now we are actually in the deployment phase of our plan and are reaping the rewards of our work," he says. Thanks to exponential technologies "we're capable of helping our customers make better financial decisions, and this makes them better-off, more loyal and more profitable."
According to Francisco González, BBVA has learnt how to use technology to actually improve customer experience.  "Arguably, we are not yet on a par in this field with the Internet giants. But we have made great strides." And along the way, he added, "we have realized that some of banking's strengths - security, privacy and compliance - are ever more significant and not easily replicable by our rivals," as we have recently seen. These cases "should serve as a wakeup call" for the need of global standard-sitting organizations to work on common principles.
From regulating banks to regulating the 'banking activity'
BBVA's Group Executive Chairman says that, unlike big tech companies, "banks are used to complying in what is a very heavily regulated industry." Up to now, 'big techs' have largely escaped significant oversight, with the exception of the EU's recent General Data Protection Regulation.
That is why, says Francisco González, it is particularly necessary that regulation treats every player that provides a particular service similarly, demanding the same standards from all of them in terms of transparency, competition, solvency or liquidity requirements and customer data management. "Regulators should no longer focus solely on banks but on "banking".
This is crucial not only to ensure a true level playing field but also to strengthen financial stability" and ensure that the risks and benefits of the digital revolution are spread evenly and fairly, he explains.
BBVA's Group Executive Chairman concludes his article with a suggestion: banks should not be seen as "underdogs" in the battle for online customers, because some of them can be successful in acquiring the capabilities to improve the client's experience enormously while strengthening their status as a trusted advisor.
Activity in Singapore
Francisco González participated in the annual meeting of the International Advisory Panel of the Monetary Authority of Singapore. BBVA's Group Executive Chairman is the only Spanish national in the Panel. He also took part in the Singapore Summit, a previous event that analyzes the Asia's role as engine of the global economy.
The MAS' International Advisory Panel is comprised by top executives from different financial institutions, including Axel Weber (UBS), John M. Flint (HSBC), Michael Corbat (Citigroup), William Winters (Standard Chartered), Jean Lemierre (BNP Paribas), Yi Huiman (ICBC), Koji Nagai (Nomura) and James P. Gorman (Morgan Stanley). The IAP advises the Monetary Authority of Singapore on the global economic outlook and relevant banking issues.