The challenge banks face in the payments arena was the focus of a discussion at Money 20/20 in Copenhagen.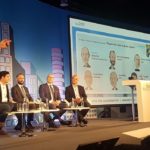 Titled What will be the Future of Banks in Payments, the debate featured BBVA's Global Head of Customer Solutions, Derek White, and centred around the innovations that are changing the ways in which customers choose to pay for goods and services.
Organised by the Boston Consulting Group, the session kicked off by stating that their research suggested 35% of banking revenues were under pressure from the fintech startup, and wider technology sector, as customer experience and brand relationships ate into traditional banking territory.
The debate then focused on what banks needed to do to stay relevant in the payments and transactions sector -especially in the wake of over the top players and big corporations like Amazon and Apple-.
White outlined how for BBVA, the bank didn't see this change as a threat so much as an opportunity.
Asked what role banks should play in people's lives, he said: "We see the role of banks as reducing customer stress. It moves beyond the realm of payments. We hear from our customers time and time again that money is the biggest cause of stress in their lives. Banks can help here by supporting people in the financial decisions they make, giving them insight, options, opportunities. Secondly, by reducing the time they have to spend on these tasks, through automation, using technology like AI to streamline financial management so people don't have to spend time going through excel spreadsheets to balance their books."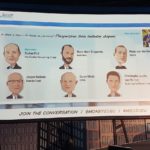 BBVA's Derek White participated in the panel about the future of banks in payments.
For example, White outlined how BBVA sees its role as being more integrated into its customers and clients lives, supporting their financial needs and offering the right kind of advisory services that help them achieve their ambitions.
If that is delivered successfully, then the bank and its services - including how it facilitates payments - will stay relevant to its customers.
Equally though, White said BBVA understands the value the fintech start-up sector delivers - and so it works to collaborate with them, and to bring the value they offer - to its customers through initiatives like the opening up of BBVA's APIs in Spain.
He also outlined that two areas will be key: the customer experience that banks deliver; and the trust banks build with their customers.
The first area matters, he argued, because in an increasingly digital world, a world that is currently mobile but will increasingly move towards air - or voice activated online activity - customer experience and the ease with which people can access information, advice, products, services and their own account details will be the most important driver for success.
He said: "Trust is critical because it is that trust that gives a bank like BBVA the authority to act on behalf of our customers and clients and make their money and data work harder for them in the first place."
BBVA sees its role as being more integrated into its customers and clients lives"
He added: "At our bank Garanti in Turkey, customers on average spend nine minutes in their app, and that's because the user experience is great. But it also means we can share information with them, support them in their decisions and ultimately build trust with them."
The next question posed to the panel, which also consisted of Jesper Nielsen of Danske Bank and Marc-Henri Desportes from Worldline, amongst others, was how banks can continue to compete and make money from the payments sector. For White, the answer was that a new model of monetisation for banks is through opening up APIs to bring in developers and turning those developers into customers.
The final question the panel were asked was what keeps them awake at night? Answers included issues like cyber security and how to protect customers and their transactional data, how to convince banking partners into going faster into the open banking model and to bring in new payments partners that add value to both the business and its customers, and staying relevant to customers.
For White, though, the answer was simple: Listening, learning and creating. He said the challenge for him was are we learning from customers about what they want and where they are seeing useful innovations, such as the explosion seen in near field communications payments. And as a bank are we then moving quick enough to build these solutions.
He added: "The average creation cycle in banks from conception to deployment is 2.2 years, but if you look at what the fintech sector is doing that's way too long. If we don't listen to what customers want and create these things faster, then we won't stay relevant for sure."