Clover Health and Bright Health, two insurtech companies dedicated to health insurance, have in recent months received nearly 300 million dollars in their funding rounds, contributing to the growth of investment in the sector.
Clover Health is one of the insurtech companies: startups that are trying to reinvent the insurance business through technology. It already forms part of the select club of unicorns, meaning companies that without needing to trade on the stock market are valued at more than a billion dollars.
In May the San Francisco company received backing from Google Ventures, Google's investment arm, which together with other investors has contributed 130 million dollars to the project, rocketing its valuation to 1.2 billion dollars.
Clover Health may seem a simple insurance company, but actually its business is data - or at least that is its strategy. In principle, its business model is like that of any other health insurance company adapted to the most cutting-edge technology of 2017, but its idea is to move gradually beyond this by using big data.
Clover uses specific software to detect any problems in the treatment received by each policy holder and addresses them through arranging medical visits and thus preventing complications that could lead to more expensive treatments. Everyone wins: patients because they improve their health; and the insurance company because it saves more expensive treatments. "People want to share their data, they know that it can help them," explained the company's CEO, Vivek Garipalli, to 'Bloomberg'.
Clover Health received its backing in the same quarter (the second of 2017) in which another insurtech dedicated to health, Bright Health, received a million-dollar investment, in this case 160 million dollars, in a round led by the venture capital firm Greenspring Associates. The Bright Health and Clover Health operations have triggered a surge in investment in insurtech companies (both number of deals and their volume) after over a year of sluggishness.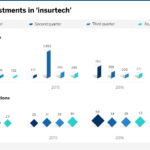 The investors' interest in these two American insurtech companies dedicated to health contrasts with the political problems they face in the United States due to the possible repeal of Obamacare, an election promise made by President Trump that so far he seems incapable of keeping given the strong opposition of Democrats and a substantial part of the Republicans.
Eliminating the obligation to obtain health insurance would be bad news for Clover Health and Bright Health, but both the companies and the investors appear convinced of the future of these companies. As Krishna Yeshwant, partner of Google Ventures, said to 'Bloomberg': "An investment such as GV in Clover is a question of several years, it goes beyond the scope of a given administration. The key question is how we can improve health insurance through technology, and that does not depend on the political debate."
At present Clover is losing a great deal of money: 34.6 million dollars in 2016, seven times more than the previous year. But in the world of unicorns what is important is future promise, not present reality.