Peio Belausteguigoitia: "We aim to double the annual customer acquisition rate of recent years"
During his talk at Investor Day on Thursday, BBVA's Country Manager in Spain, Peio Belausteguigoitia, said that the priority in Spain is profitable growth, which will be based on increasing its customer base. In this regard, he announced that the bank aims to double the annual rate of customer acquisition and expects to attract 3.6 million new customers in the next three years.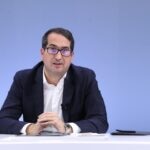 During his talk at Investor Day, BBVA's Country Manager in Spain expressed pride in the bank's performance over the last five years and outlined the bank's priorities for the next three years.
Among the most important milestones achieved by the bank, Peio Belausteguigoitia pointed to the growth in the number of customers. In this regard, he explained that the open market strategy implemented in the last five years has paid off, with an increase of 3.5 million customers.
2021 was a record year for customer acquisition. In fact, BBVA is the bank that has attracted the most new customers in Spain (535,000 up to September, +54%). "In 2021 our customer acquisition share will be well above our current natural market share," said BBVA's Country Manager in Spain.
He also stressed that this acquisition has been done in an even more efficient way, as today 50% of new customers are coming via digital channels thanks to its technological capabilities, which allow both individual and corporate customers to open an account quickly, conveniently and easily. Moreover, 70% of new customers sign up in less than six months, he pointed out.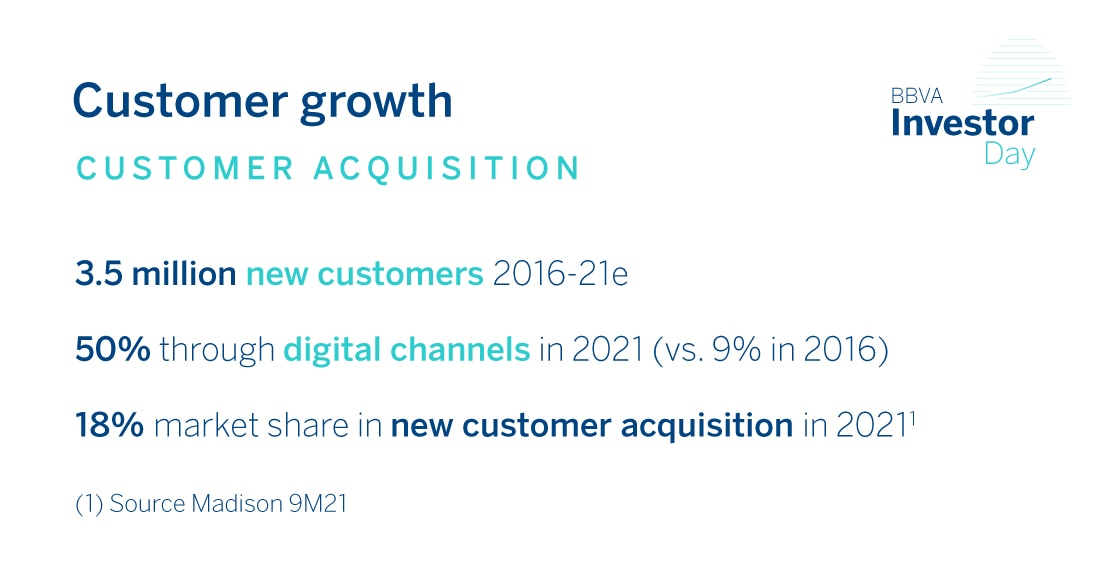 BBVA's country manager said the bank will continue to focus on customer acquisition over the next three years and aims to attract 3.6 million more customers, almost doubling the annual acquisition rate of the last five years.
Peio Belausteguigoitia also emphasized that the differentiation strategy has played a very important role in attracting customers. "In the age of opportunity, our philosophy is very clear: banks must be where the customers are. We believe that third-party agreements and collaborative systems are a great opportunity to enhance our customer experience. We will continue to drive agreements with other partners in different sectors," he said.
Another highlight was the bank's profitable allocation of capital over the last five years in segments and products, which will continue to shape its future growth strategy, given that it plans to prioritise the use of capital in the most profitable products: consumer, SMEs and corporates.
Efficiency is also important, driven by factors such as the growth of digital sales, which now account for 65% of total sales. By 2024, BBVA has targeted for more than 80% of sales to be through digital channels.
Thirty-party partnerships to drive sustainability
In terms of sustainability, the Country Manager underlined that the Bank has taken great steps to help customers in their environmental transition, with the development of sustainable solutions for companies and individuals, such as calculating Carbon Footprint, among others.
In addition, the bank has incorporated sustainability into all internal and business processes. As a result of this strategy, "BBVA has positioned itself as a benchmark player in the industry and aims to grow beyond our natural market share and create value through third-party partnerships," he said.
Financial health, a strategic priority
Advisory services are also one of the pillars of the bank's value offering in Spain. "Digitization allows us to offer personalized advice 24/7. In this way, we have built the best digital services and tools in the industry in Spain," noted Peio Belausteguigoitia.
In this regard, he highlighted that customers value the service that the bank offers through these advisory tools, with a 30% growth in interactions in less than two years. Also noteworthy is that the digital sales of customers who use these tools are double those of customers who do not use them.