Seven innovative companies in Mexico that should be followed closely this year
For a country's entrepreneurial fabric to operate smoothly, a series of very specific circumstances have to take place in order to promote the creation of businesses. The conditions in Mexico are very favorable for many companies to embrace innovation.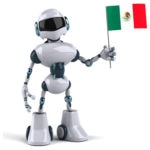 The future in Mexico is now promising. Many asked themselves how it could be possible for the country's companies to be afraid of innovating given the favorable conditions. A first-level structural and geographical size, the proximity to the United States and business development areas like Silicon Valley or being an economic benchmark in Latin America did not seem to be enough.
Fortunately, all this is giving way to a brave and entrepreneurial reality. In addition, better knowledge of the financial fabric and the need to look beyond the country itself have become a commitment to the future.
It is worth examining the main innovative companies that are turning Mexico into a first-level economic environment. Here is a list of companies that should be followed closely this year:
Kaxan Media Group: Although it is not new in the market, this company specializing in the world of video games and digital animation has managed to challenge the popular 'Angry Birds'. It's innovative development seems to know no bounds. In addition, some of its most popular games reflect the Mexican tradition to lure new customers.
NA-AT Technologies: The mobile explosion is no doubt a global phenomenon. This is why this company specializing in the development of financial apps for economic management is finding an increasingly large market niche. If there is no sudden slowdown, all indicators suggest that its potential is huge.
Kubo.financiero: Also in the financial segment, this company manages person-to-person loans with the aim of generating a microfinance system to help those who have problems accessing more traditional circuits. Halfway between the collaborative economy and the traditional ways of banking, it seems obvious that doing things differently generates benefits for all.
Carmudi: Although not 100% Mexican, since right now it operates in different countries, this company brings sellers and buyers into contact for direct management in the vehicle market. Technology as a value proposition in a traditional market.
PingStamp: Obviously, marketing could not be missing from this list of innovative companies. It generates purchase rewards through mobile apps for businesses using its services. Underpinned by geostrategy, it offers a significant advertising capacity within its services.
WePow: Another area that could not be missing has to do with human resources and staff management. In this case we refer to a company specializing in recruitment for businesses. One of its best services is a video software program that saves costs and time. CNN and Wallmart are two of its largest customers.
Taste Space: Making the most of the value of mobile technology, this company offers comprehensive management in social media and mobile services for home delivery orders in the catering sector.
This is obviously not an exhaustive list. It shows the new strength of Mexican businesses and how they are losing their fear of entrepreneurship, above all in mobile technology, which is no doubt the fastest growing segment with seemingly unlimited opportunities.
Only time will tell whether the projects and propositions were sufficiently interesting to gain a foothold in the market and appear as companies that generate a "before and an after" with respect to a society's added value. One thing is clear: these are companies we should not lose sight of.