BBVA and El Celler de Can Roca launch 'Seeds for the future', an initiative to raise awareness about the relationship between food and environmental protection
'Seeds for the future' was created to encourage people to reflect on the importance of preserving biodiversity and to warn of natural resource depletion. Through a documentary that will be released in November, it will inspire consumers to adopt responsible eating habits based on the principles of proximity, quality and buying local, protecting both our health and our cultural memory. The initiative aims to fulfill the mission of BBVA and El Celler de Can Roca's 'Sustainable Gastronomy' project, which seeks to guide people and provide them with tools in their transition toward a more sustainable life.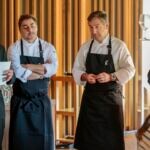 Biodiversity is an essential component of a sustainable and inclusive future. It is a fundamental aspect of human health and food security, and also helps to sustain healthy and nutritious diets, improves the livelihoods of those living in rural areas and strengthens the resilience of people and communities around the world. However, its preservation is in danger: with 86 percent of species at risk, biodiversity experts are warning that human activity is responsible for this threat.
In response to this situation, and as part of their commitment to promoting economic, social and environmental balance, BBVA and El Celler de Can Roca have launched a new project to document the importance of agricultural biodiversity. The initiative, presented at El Celler de Can Roca (Girona), coinciding with World Food Day and Sustainable Food Week, focuses on the alarming loss of crop diversity (in fact, sources such as FAO report that approximately three quarters of agricultural varieties were lost last century).
Through 'Seeds for the future', both organizations seek to showcase that a commitment to conscious, responsible and sustainable gastronomy is the seed for our future wellbeing. This new joint endeavour, which will be covered by a documentary piece that will be released in November 2021, will also take a deeper look at how biodiversity loss impacts gastronomic and cultural memory worldwide.
"There is an inseparable relationship between cultural and biological diversity. The loss of species, varieties of crops and agricultural techniques not only impoverishes our culinary tradition, it also diminishes our knowledge and heritage. In our project with BBVA, we have always supported top-quality local products and the meticulous farmers who are committed to them. For us, it is a way of preserving both our environment and our memory and flavours. Ultimately, cooking is a key vehicle for sustainability, development, innovation and social inclusion," explained Joan Roca, chef and co-owner of El Celler de Can Roca.
BBVA and El Celler de Can Roca present 'Seeds for the future'.
"For years now, BBVA and El Celler de Can Roca have been working to help people in the transition toward a sustainable life, ensuring a green, inclusive and resilient future. Beyond the fight against climate change, the conservation of biodiversity is also fundamental. It is estimated that the natural capital per person decreased nearly 40 percent between 1992 and 2014, and over half of the global GDP depends moderately or greatly on ecosystems - a dependence that is even more pronounced in Latin America," stated Antoni Ballabriga, Global Head of Responsible Business at BBVA.
"Biodiversity, healthy diets and climate change are inextricably linked. Without an extensive diversity of plants and their genetic diversity, we cannot have quality nutrition for a healthy and productive life, adapt agriculture to climate change or achieve global objectives for sustainable development," said Álvaro Toledo, Deputy Secretary (a.i.), FAO's International Treaty on Plant Genetic Resources for Food and Agriculture, one of the institutions that collaborated with BBVA and El Celler de Can Roca on this project.
A number of international chefs working in sustainable gastronomy attended the launch event, such as Christian Petersen (Argentina), Harry Sasson (Colombia), Jorge Antonio Vallejo García (Mexico), Leonor Espinosa (Colombia), Maksut Askar (Turkey), Rodrigo Pacheco (Ecuador) and Santiago Blondel (Argentina); as well as organizations committed to the preservation of biodiversity such as the Food and Agriculture Organization (FAO) of the United Nations, Crop Trust, the International Fund for Agricultural Development (IFAD) and Slow Food.
Sustainable gastronomy and support for small farmers: a cornerstone of the partnership between BBVA and El Celler de Can Roca
El Celler de Can Roca and BBVA's adventure together is a story of shared values: responsibility, innovation, commitment, globality, leadership and a desire to do better. It is a partnership that was created in 2013 and has travelled the world, seeking to invigorate small farmers and fishermen in each region, exploring and promoting the stories of their signature products.
In 2020, during the worst period of the COVID-19 pandemic, BBVA and El Celler de Can Roca took another step to support these farmers with 'Sustainable Gastronomy: support for small producers' - a project that aims to preserve natural resources and recognizes the efforts of people who work on land and at sea. Months later, they announced the Awards for the Best Sustainable Producers: awards that, over their past two editions, have provided visibility for farmers, livestock breeders and producers of local food whose activity combines environmental protection, a commitment to energy saving measures and healthy food.
This initiative joins others launched by the bank to support these types of producers in the current situation. Within this context, BBVA set up a loan in Spain that helps farmers and livestock breeders turn their conventional farms into organic farms, and also organized a free professional training program so that their clients in Spain can get an introduction to online sales. And its 'Comercio a distancia' (Remote business) platform in Mexico and Spain helps non-digital businesses meet the demand for remote orders in the COVID-19 context.
1

Frame from the documentary 'Seeds for the future': Joan Roca with his mother Montserrat Fontané

2

The Roca brothers at the presentation of 'Seeds for the future' at El Celler de Can Roca

3

The chefs preparing for the presentation ceremony of 'Seeds for the future'

4

Jordi Roca and Joan Roca go over some details at the launch event

5

Toni Ballabriga, Global Director of Responsible Business with Josep Roca

6

Family photograph of the participants at the launch event

7

Josep Roca speaks to some of those in attendance at the presentation of 'Seeds for the Future'