BBVA and El Celler de Can Roca sign three-year extension of their sponsorship agreement
BBVA and the Roca brothers have announced a three-year extension of their collaboration agreement to develop joint projects. With this extension, both organizations signify their intent to continue building on the set of shared values that has inspired their successful partnership, and to take on new projects, with innovation and sustainability as fundamental pillars.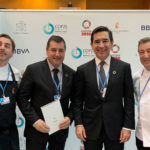 In late 2013, BBVA and El Celler de Can Roca signed their first collaboration agreement as a result of a common set of goals: responsibility, innovation, commitment, globality, leadership and the will to succeed. One of the key elements to this partnership is that both the Roca brothers and the financial institution place the customer at the heart of everything they do. All these elements have helped to turn this partnership into a thrilling adventure.
"With BBVA we have grown in many ways. The tours have allowed us to showcase our work around the world, discover new products and producers, and offer a hundred culinary students the opportunity to work and learn with us back at home," says Joan Roca. For the eldest of the brothers of the three-star restaurant , "the idea of sharing knowledge has always been linked to El Celler and is very much in line with BBVA's ethos. Also, BBVA is a key ally in our commitment to sustainability.
BBVA
For the financial institution, this collaboration with El Celler reaffirms its goal of achieving the best visibility and perception across its footprint and represents a step forward within its aim to create and look for universal and global content to connect with audiences at an emotional level.
Over the course of these six years we have developed projects that have made us both grow," says Óscar Moya, Global Head of Marketing at BBVA. "This is not a typical sponsorship deal; but a very special partnership through which we've all learnt some very important lessons. We are thrilled to have this opportunity to keep exploring new and exciting projects with the entire El Celler team for three more years," he said.
Another aspect that BBVA and El Celler de Can Roca share, is that they both aspire to play an active role in society and contribute to ensure a sustainable future. One of the keystones of the Roca brothers' cuisine is the collaboration with small producers, using local and seasonal ingredients to provide the foundation for their dishes. On the other hand, BBVA is constantly innovating and developing new customer solutions, with the aim of generating a positive impact in the communities in which it is present. At present, it is working around the clock to, throughout 2020, roll out alternative sustainable solutions to all the products it offers in Spain, and is developing a number of energy efficiency projects to minimize the potential direct negative environmental impact of its activity.
A history of opportunities
The story of this sponsorship dates back to the first international tour on which both organizations embarked. The Celler de Can Roca had just been named the best restaurant in the world and received many offers to expand across the world. True to their values, the Roca brothers chose to maintain the authenticity of their space in Girona. It was then that BBVA offered them the opportunity to keep nurturing their curiosity and building their knowledge and skills by embarking on a world tour. This solution would allow them to keep managing their restaurant like they always had, while taking their gastronomic proposal across the planet.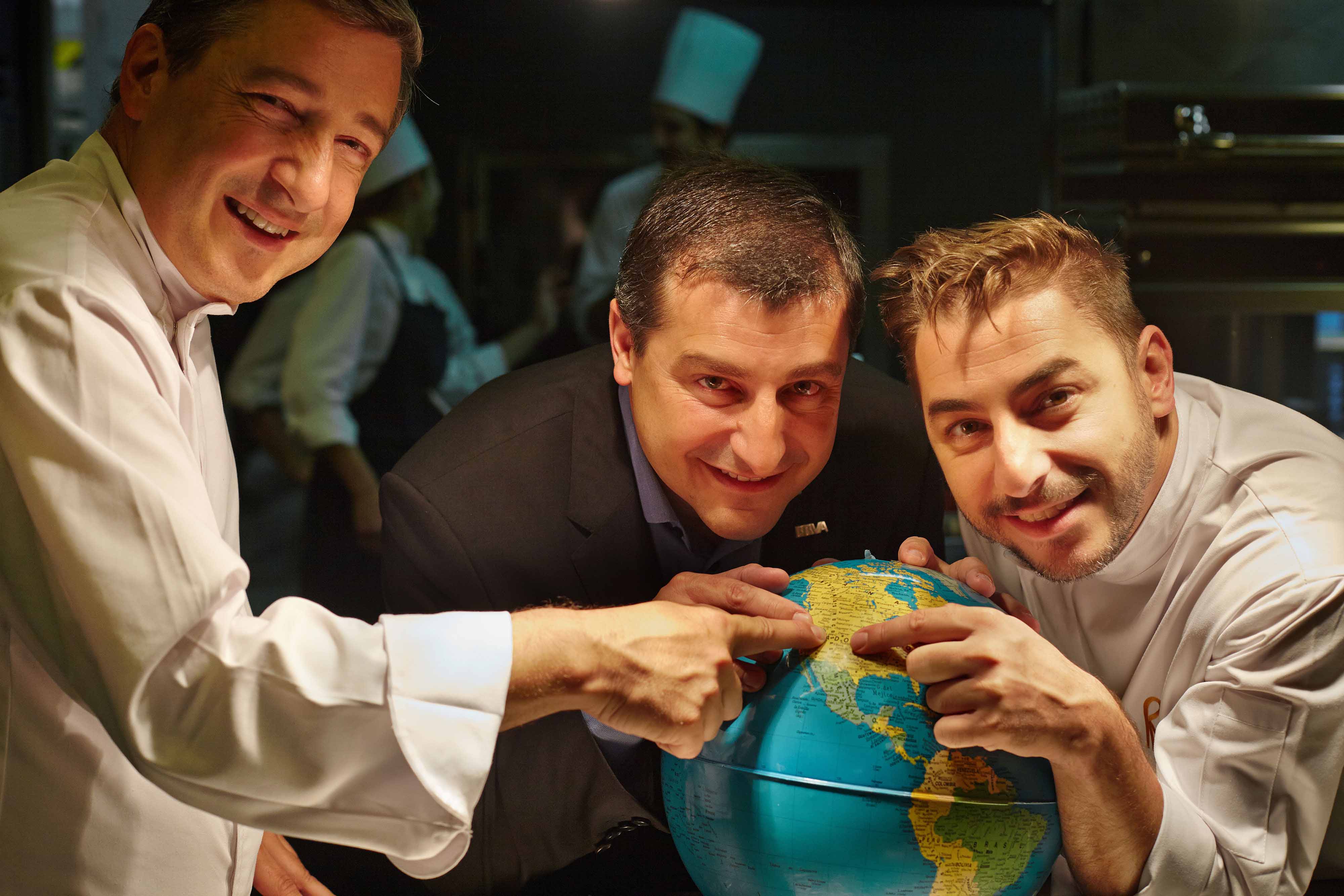 BBVA
Over a total of three tours to date, the Roca brothers have travelled across America, Europe and Asia, paying homage to local cuisines at every stop of their itinerary. This model was adapted to tributes to different culinary regions in Spain. A pivotal point for the project's success has been the internship program associated to the tours that offers a unique opportunity to discover the most promising up and coming culinary talents. Also, the tours have contributed to revitalizing small farmers and generate a positive impact in local communities in every country they've visited.
BBVA and the Roca brothers have also carried out several relevant documentary projects. Thus, 'Cooking Up A Tribute' recounts the first tour across Mexico, Peru, Colombia and the United States; in 'The Turkish Way' they introduced audiences to the vibrant Turkish cuisine; and in 'El heladero del Himalaya (The Ice Cream Maker of the Himalayas)', Jordi Roca joined mountain climber Carlos Soria's Annapurna expedition, delighting his whole crew with haute cuisine dishes at over 5,000 meters. More recently, the youngest of the Roca and BBVA presented 'El sentido del cacao (The Sense of Cocoa)', an investigative work that takes a closer look at alterations affecting taste.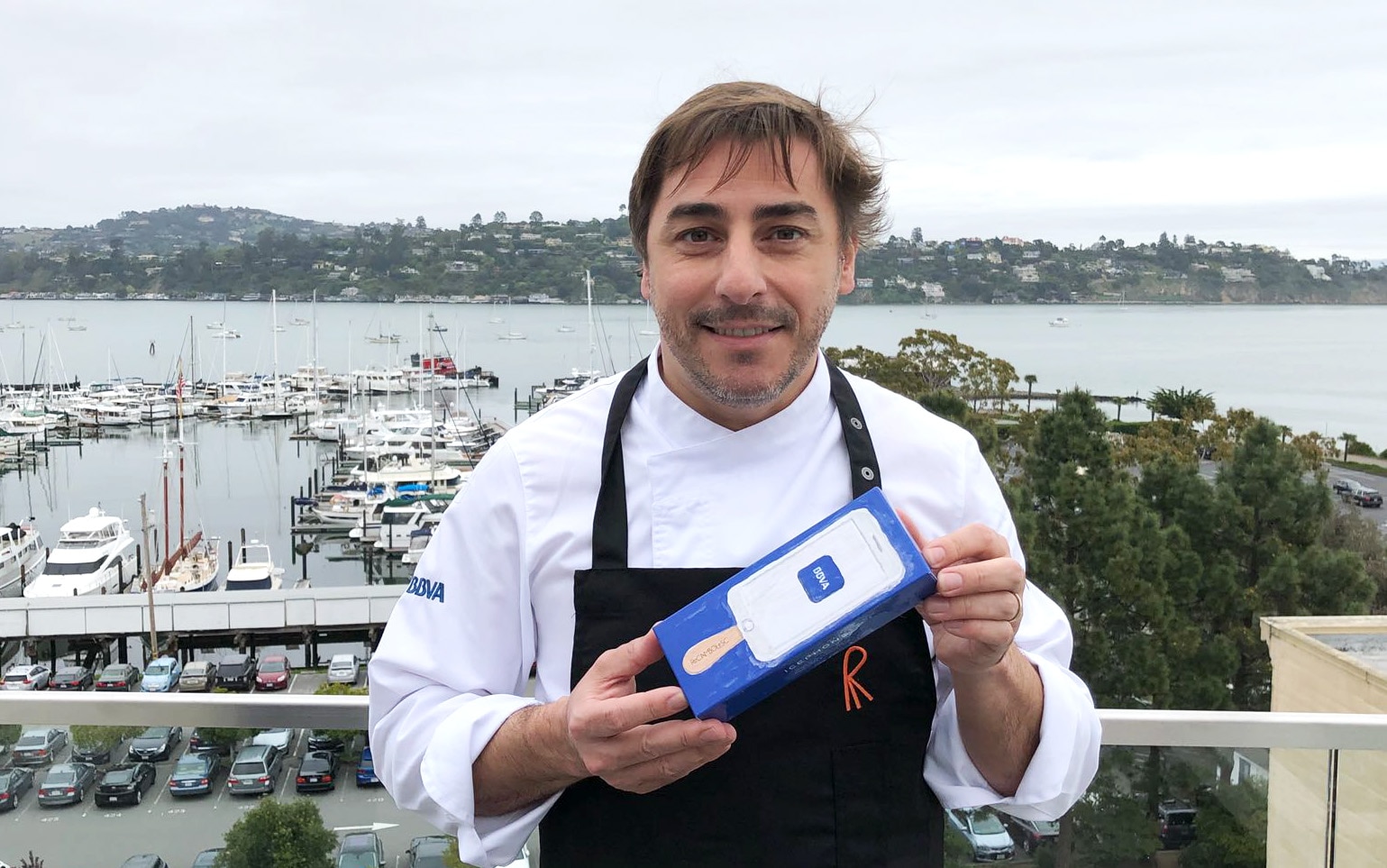 'Icephone', by Jordi Roca. - BBVA
The bank and the brothers have also collaborated in the publication of several books, including 'Casa Cacao' (a story in which Jordi Roca unveils the origins of chocolate) and, more recently, 'Raíces (Roots)', a book that focuses on some of the brothers' favorite products and producers from different Spanish regions. Other noteworthy projects that have spawned from this partnership include the El Celler's 30th anniversary exhibition, entitled 'De la Tierra a la Luna', or the menus prepared in collaboration with BBVA at the 2018 Oscars and during the Madrid Climate Summit.
This good relationship between the bank and the Roca brothers has even inspired two creations: the 'Icephone', a popsicle dedicated to BBVA by Jordi Roca, and a dish to celebrate the bank's new identity.