The bank has published an in-house guide to raise awareness among employees of the value of generational diversity. The goal is to confront any lingering prejudices about people's age. "At BBVA, we have up to four different generations under one roof. We want to drive home the point that everyone here, regardless of age, is highly capable and brings value and talent to the bank," said Heather Spratt, who leads the BBVA employee group concerned with safeguarding generational diversity at the bank.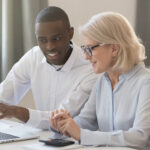 Generational diversity implies the coexistence of people of different ages in the workplace, which entails a wide diversity of values, sources of motivation, and ways of understanding both life and work. Managing this diversity is a key challenge for businesses—and a key challenge faced by BBVA. At present, by generations, the bank's workforce mirrors the active population in wider society: millennials (30 to 39 years old) predominate, accounting for 36.8%, followed by generation X (40 to 49 years old) with 27.1%, generation Z (under 30 years old) in third place with 23.1%, and, finally, boomers (over 50 years old), who account for 13.1% of the workforce.
"Managing generational diversity involves building intergenerational teams and bringing together different skills and ways of thinking that contribute value, drive innovation and productivity, and ultimately help create a more competitive company," Heather Spratt explained. Embracing generational diversity in a company means leveraging the strengths of all employees, regardless of age, and nurturing a culture of coexistence among the different generations. BBVA is committed to diversity and building a more inclusive and rewarding work environment, and has advanced toward this goal for many years. "By pledging to diverse talent, we make innovation a key driver of competitiveness. We've come a long way on issues of gender diversity and LGBT diversity. We now want to address the issue of age and the prejudices that sometimes cluster around it," Heather added.
A first step to achieve this has been the publication of a guide to raise awareness of ageism and confront it, as well as other forms of exclusion due to age. 'Ageism' refers to how people think about and treat others for age-related reasons. "Ageism is present in our attitudes and in our language, and extends to all areas of society. People of any age can be discriminated against, but it's more common for older and younger people to be affected. We believe it's important to fight ageism in the workplace, as it can have an impact on people's social and economic well-being," said Spratt.
The new guide discusses the reality of work environments and provides suggestions and best practices. In addition, the guide uses examples to help us understand that many of our internalized biases and attitudes toward age are exclusionary and discriminatory. "Having brought out this guide, we will train team leaders and provide them with tools to motivate and encourage their team members to grow professionally regardless of age, assign responsibilities according to people's specific skills, and tailor career development opportunities to each team member's specific life moment," she concluded.
Diversity as a strategic driver
The new guide is part of a range of initiatives in support of generational diversity. Since 2022, BBVA has partnered with the Transforma España Foundation to host the 'Added Value Awards,' which place the spotlight on the workplace role of people aged over 55 to recognize their contribution and encourage them to continue creating value for society. BBVA Research published a paper that analyzed the employment situation of over-55s in Spain and the social and economic implications of extending working life.
All these efforts have positioned BBVA as a role model in workplace diversity management. BBVA's pioneering approach was recently recognized by the LinkedIn and Top Employer rankings, the Merco Talento research paper, and the Gallup Exceptional Workplace Awards. These accolades take note of business initiatives in favor of diversity and inclusion.