The bank celebrates the third edition of Diversity Days, an internal event to promote diversity, inclusion and equality in the workforce through activities, conferences and events throughout the week. As part of Diversity Days, the bank informed its workforce about its Diversity Policy, a general guide for action that makes respect for differences, and thus for diversity, a fundamental pillar of the company's strategy.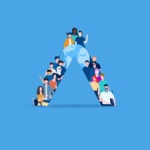 For the third consecutive year, BBVA employees are celebrating Diversity Days, a series of days dedicated to offering the workforce the opportunity to broaden their knowledge on diversity and inclusion related issues, as well as to deepen their understanding of projects promoted by the bank around the world on these matters. During various talks and conferences, experts from both the bank and outside will address topics such as generational diversity, gender equality, disability and LGBTIQ+ inclusion. "Diversity and inclusion are key levers for our transformation, helping us to be more innovative and offer better solutions for our customers," explains Imma Catalá, Global Head of Culture and Engagement at BBVA.
In recent years, BBVA has become a benchmark for diversity by promoting measures to help different groups that face greater difficulties in terms of inclusion. This year, the bank has set itself the target for women to occupy 35% of its management positions by 2024. BBVA continues to receive recognition in this area, being included for five consecutive years in the Bloomberg Gender Equality Index. Additionally, the bank has implemented various measures to ensure open and prejudice-free work environments, such as a manual to facilitate and raise awareness of gender transition and a guide to family diversity.
"Our commitment involves fostering and embracing diversity across the various areas of action (employees, customers, partners, salespeople, suppliers, collaborators and all of BBVA's stakeholders), promoting a culture that welcomes differences in the BBVA community, where the uniqueness of each person is the driving force that encourages them to develop their full potential," she adds. To do so, the bank has set out in a document the principles that govern diversity within the company, promoting equal opportunities among its employees, generating a diverse and inclusive work environment, ensuring a fair and equal compensation model, facilitating work-life balance and breaking down barriers that could obstruct inclusion. "As part of our global and local strategy, we have determined some guidelines that will allow us to stand out as a multinational company committed to diversity," she emphasizes.
Commitment to the Sustainable Development Goals
A policy based on the guarantees defined in the Universal Declaration of Human Rights, which is the global standard defining the fundamental bases for the freedom and equality of people. This standard is applicable to BBVA as a company committed to the United Nations Guiding Principles on Business and Human Rights. The bank complies with the local regulations where it operates and, in addition, its internal regulations include a Code of Ethics and Conduct, which establishes a series of basic principles of action highlighting respect for the equality and fairness of all persons and the prevention of any type of discrimination.
This document is supported by the bank's commitment to sustainability and the 2030 Sustainable Development Goals, encompassing in particular Goals 3 (Health and Well-being), 5 (Gender Equality), 8 (Decent Work) and 10 (Reducing Inequalities). "With this policy we clearly articulate our commitment to diversity, inclusion and equality, defining as a company the main working areas, the principles, policies and actions to be developed; and the management models for the governance, control and supervision thereof," Catalá concludes.